Spanish news headline: 'My relationship with Armstrong is null'
English-speaking media headlines: 'Contador slams, rips, furious with Armstrong'

July 28 update: I'm attempting to determine to what extent Alberto Contador's comments from his post Tour de France press conference in Spain were lost in translation or sensationalized by the english-speaking media. — Steve
The news conference that the news service AFP based its story on:

Contador: "Mi relación con Armstrong es nula" (02:57 not the whole news conference) — rtve.es

Here's the english translation by someone fluent in Spanish:


Contador: My relationship with him is null and regardless of his way of being he is a grand champion, he has won 7 Tours, and he's played a great role in this Tour. At a personal level it's different, I have never had a great admiration for him, nor will I. But as a cyclist, of course, he is a great champion.

Question: Have you ever felt that the polemic with Armstrong and Astana is similar to what Alonso felt with Hamilton and McLaren? It's a perfect comparison.

And secondly, knowing that you were the virtual winner of the race, how do you feel about the folks in Paris not preparing the correct national anthem and playing the anthem of another country?

Contador: Well with Hamilton and Alonso, in a way I think it's similar to what I have experienced, the difference being that with Fernando and Formula 1, the cars have a great influence. In comparison on the bicycle it's different and in that sense, I was clear that if I kept a cool head and my legs continued to respond the way they had been, I wasn't going to have any major problems.

As for the anthem, it was an enormous gaff. They knew ahead of time what anthem they had to prepare and well, after 5 to 10 seconds, I realized what anthem it was, more like I realized that it wasn't the Spanish anthem. They rectified the situation, late, but they rectified it.

Question: Has Bruyneel disappointed you?

No, it's also something I don't want to get into. I have always kept myself at the margin of all these types of things. I understand the attitude that he has had, perfectly. At the end of the day, he owes everything he has to Armstrong. He was with him for 7 Tours, it's normal that he has greater affinity towards him than he has towards me. I understand his situation perfectly, and well, it's not a disappointment for me.
another source:
Contador: "Mi relación con Armstrong es nula"
(
google-translation
): includes celebration video —
elpais
---
In the following articles additional Contador quotes can be found:
Contador used the occasion to "congratulate the U.S. for its third place in the overall standings."
"The situation was tense and delicate because the relationship between myself and Lance extended to the rest of the staff," he said. "On this Tour, the days in the hotel were harder than the those on the road."
sources;

Mi relación con Armstrong es nula ( google-translation) — lavozdegalicia

"Nunca admiré como persona a Armstrong" — as

---
From these quotations the following english headlines were derived:
Contador slams Armstrong
—
todayonline
Contador rips Armstrong
—
velonews
Tour de France winner Alberto Contador blasts Lance Armstrong
—
nydailynews
Contador furious with Armstrong
—
news.bbc.co.uk
Forums and Twitter are abuzz with these english-speaking stories.
---
Contador: "the days in the hotel were harder than the those on the road"
July 29 update:
We previously heard the brief statement:
"The situation was tense and delicate because the relationship between myself and Lance extended to the rest of the staff,"
he [Contador] said.
"On this Tour, the days in the hotel were harder than the those on the road."
Now we have a little more background information from
diariosur.es
which is somewhat funny and sad if true. Translation reviewed by three people fluent in Spanish:
It happened on Thursday, a few hours before the Annecy ITT. Contador came downstairs to the entrance of the Palace of Menthon, the luxurious Astana hotel. The Tour was in play. He looked right, then left. Nobody, nothing. No Astana cars or support staff. Cold sweat. A time check. Where are they? The hotel is several kilometers from the start. There he was, the leader of the Tour, in flip-flops, bag in hand and alone. He went to the hall looking for an answer: Armstrong had ordered the staff to go pick up his wife, kids and friends to the airport.

Contador left his room last because he was the last one starting the ITT. Armstrong had managed to take away his means of transportation. The straw that broke the camel's back. Steaming with anger. He phoned his brother Fran. He came to pick him up by car and took him to Annecy in his own vehicle. He left last and finished first. His best victory. In the ITT. In solitude. The same way he won his second tour.

Contador's toughest climb was not recorded in images. It was narrated by others. It was fought in the hotel and the bus: during one stage, Armstrong sat his guests at the very back of the bus, right in Contador's usual seat. One more provocation. Armstrong to the luxury suite. Contador to sleep with Paulinho, the only ally. Same deal during the entire tour. Mouth shut, listening to Armstrong's jabs: "It doesn't take a Nobel prize to figure out what happens with side winds". Contador didn't reply in the hotel. He did on the road. He attacked in the first mountain finish in Arcalis. Without permission from Bruyneel, Armstrong's DS. That night the Astana hotel was a funeral. Red eyes from the Texan (anger? crying? not sure). The first cyclist that stood up to him. And he did it in silence."
Also here's the article in AS that Johan Bruyneel is downplaying on Twitter:

Los desplantes de Bruyneel y Armstrong a Contador (google-translation ...looking for a good translation) — as

"Hey, Pistolero, tienes mucho que aprender" (looking for a good translation) — as

'Un uomo solo al comando' — elpais (
English Translation: 'One Man Alone at the Command')

---
Haimar Zubeldia contradicts the bad teammate rap against Contador
July 29 update:
The story continues and it's getting rather childish. Yes folks, Alberto Contador thanked his teammates for their part in his general classification win. (Viatcheslav Ekimov
tweeted
he hadn't as did
Lance Armstrong
. Maybe if they hadn't
skipped the celebration party
then they'd know that.) Haimar Zubeldia, an Astana rider who is headed to Team Radio Shack next year, has spoken to the Basque press to set the record straight.
Haimar Zubeldia says:
A estas alturas, lo que diga yo de Contador sólo va a servir para afirmar lo bueno que es. Cada carrera que estoy con él alucino más. En Contador todo es bueno. En la montaña no tiene rival. En Verbier me sorprendió el tiempo que sacó en los seis kilómetros finales. Al terminar las etapas iba habitación por habitación para darte las gracias por el trabajo.

Translation: This means that, each night, at the end of each stage Contador was going room to room giving thanks to teammates.

source:
diariovasco.com via a forum comment on cyclingnews
July 29 update: Compare these two video reports. Quite different. Reuters is much more sensible than AP's version:

Contador dishes it to Armstrong (01:11 english) — Reuters

Armstrong-Contador feud continues (01:39 english) — AP

---
One Man Alone at the Command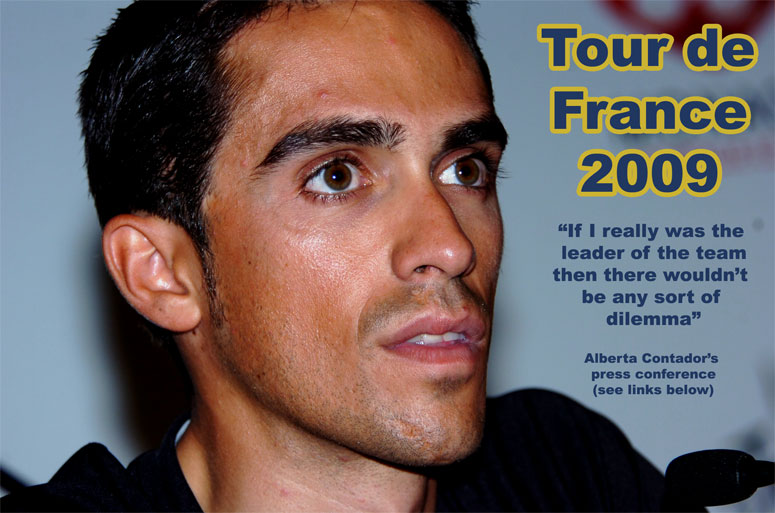 Aug 1 update: The two photos above are from the July 2nd pre-race press conference when Johan Bruyneel sat beside Alberto Contador and declared him the leader of Team Astana going into the race. It would be the last time Bruyneel stood in Contador's corner. A hollow gesture for the cameras, now looking back.
During the first rest day on July 13th, Alberto conducted another press conference, this time alone. That's when I posted the top photo captioned with the profound statement Alberto made that day: "If I really was the leader of the team then there wouldn't be any sort of dilemma." in reference to the developing leadership conflict within the team despite his superior form.
We now know that Alberto won the race despite everything and after a bizzare week following the aftermath of Alberto Contador's post race press conference on July 27th, it sure seems Alberto Contador's comments have been blown out of proportion to deflect criticism from what actually took place. The attacks have been fueled by misleading english-speaking news reports and childish, but influential Twitter messages by the characters involved. Even just yesterday with all that is now known, the author of Lance: The World's Greatest Champion couldn't resist tightening the velo noose when he called Alberto Contador's press conference an "anti-Lance tirade". As far as I know, Alberto Contador has always silently gone about his business until now. So why would a winner subject himself to such criticism if he wasn't right? — Steve

Here's the english translation of the el pais article posted earlier this week which is a must read:
'One Man Alone at the Command' (english translation)

---