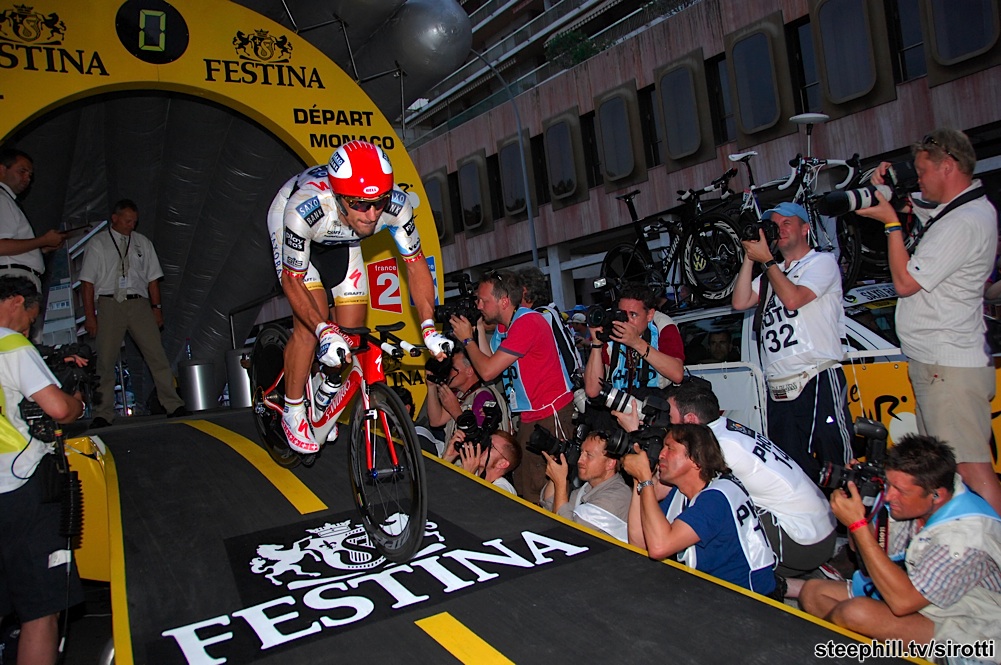 12 Big Photos from Stage 1 — sirotti and colin flockton

Full Results — letour.fr

Full Results and Report — cyclingnews

Off to the Races: Fabian Cancellara easily wins the first stage — steephill.tv

Cancellara wins Tour opener in Monaco — velonews

Tour de France Stage 1 report — cyclingweekly.co.uk

Cancellara verovert de eerste gele trui — sporza.be

Highlights and Reactions: Verslag Van De Eerste Etappe (01:34 Flemish) — sporza

Post Race: Armstrong return 'felt good' (02:08) — eurosport

Post Race: Leipheimer enjoys Monaco (02:12) — eurosport

Pre Race: Lance talks with Eddy Merckx (02:40) — livestrong

Pre-Race: Lance: "I'm here to win" — versus

Last 10 minutes/Podium finishers (10:00 english) — versus

12 Big Photos from Stage 1 — sirotti and colin flockton

Graham Watson Stage 1 Photos
— grahamwatson

Stage 1 ITT Highlights (01:57) — eurosport

Team Columbia Spotlight 'they plan to win' (01:35) — eurosport

Stage 1 Highlights, Interviews, Analysis (multiple clips) — versus

ITV stage 1 podcast with Matt Rendell, Ned Boulting and Chris Boardman: stage 1 roundtable; interviews with stage winner Fabian Cancellara and Bjarne Riis — ITV

Bikeradar stage 1 podcast: Author Richard Moore joins Procycling's Daniel Friebe and Ellis Bacon to round up the results — bikeradar

Post Stage Analysis
Off to the Races
Fabian Cancellara wins stage, takes first Yellow Jersey
An on-form Fabian Cancellara won today's opening time trial stage of the Tour de France. The former World Champion trailed Bradley Wiggins at the top of the Côte de Beausoleil, and it looked for a time as if the British rider from Garmin-Slipstream would wear the first Yellow Jersey of the Tour. Spanish time trial champion Alberto Contador of Team Astana then blasted over the côte with a still faster time.
But Cancellara was having none of it. The Swiss talent, who has twice before won the opening time trial at the Tour, used his acrobatic bike handling on the sinuous descent back to Monaco. The Olympic and former World champion in the time trial has otherworldly bike-handling and he needed them on the narrow, twisting road into Monaco. Inside the final kilometers Cancellara overtook his minute-man, Giro d'Italia winner Denis Menchov, himself no slouch against the watch. At the line, Cancellara beat the time of Bradley Wiggins by 19 seconds, a significant margin in a 15.5 kilometer test.
Still out on course, Alberto Contador continued his big ride, but could not match the speed of Cancellara. Contador, whose time trial skills have improved significantly this season, finished second, 18 seconds behind the Swiss champion. In the battle for the general classification, Contador has seized an early advantage, though Australian Cadel Evans of Silence-Lotto sits just 5 seconds behind.
"I have showed that I am the best specialist in the time trial," declared Cancellara after the stage. No need for false modesty from the Swiss talent. Cancellara explained that he took his share of risks to win the stage, but dismissed them as "normal." "I know how to pilot my bike very well," he commented. Recognizing his advantage in the descent and the flats, the Saxo Bank rider held back on the climb. In the end, he could see Denis Menchov. "That was where I made the difference," Cancellara said. The Swiss talent has had a difficult season, which included a training crash at the beginning of March. The crash ruined his preparation for the Ronde van Vlaanderen, his main objective for the Spring. "It was a difficult moment, because I have known three or four years of big victories," Cancellara recounted in Monaco. The Swiss rider said he hopes to keep the jersey as long as possible, and with no time bonuses for the stage winners, he could hold the jersey for much of this first week.
For his part, Alberto Contador of Astana told the media after the stage that he was "very content" with today's result. "I am not disappointed, I am very happy with the result, Cancellara is a grand champion," he said. When asked about the team dynamics between Armstrong and him, Contador said, "This does not preoccupy me very much. The media talks about a conflict, but the relationship within the team is good." Lance Armstrong, who returns to the Tour after a four year absence, finished tenth, 40 seconds behind Cancellara. Contador, meanwhile, who currently wears the Polka Dot Jersey, said, "I would like very much to change this jersey, I want to wear the Yellow."
General Classification Update
Fabian Cancellara, Saxo Bank
Alberto Contador, Astana, at 0.18
Bradley Wiggins, Garmin-Slipstream, at 0.19
Andreas Klöden, Astana, at 0.22
Cadel Evans, Silence-Lotto, at 0.23
Levi Leipheimer, Astana, at 0.30
Roman Kreuziger, Liquigas-Doimo, at 0.32
Tony Martin, Columbia-HTC, at 0.33
Vincenzo Nibali, Liquigas-Doimo, at 0.37
Lance Armstrong, Astana, at 0.40
In the general classification battle, pre-race favorite Alberto Contador has given notice that he has come to this Tour de France with excellent form. The Spanish rider from Team Astana had the fastest time of the general classification favorites in Monaco. He has also put himself at the top of the team hierarchy at Team Astana, at least for now. Contador leads Andreas Klöden by 3 seconds, Levi Leipheimer by 12 seconds, and Lance Armstrong by 22 seconds.
According to Astana's press comments, Contador is the undisputed team leader for this race, but many observers have wondered how well the talented cast at Astana will work together. After all, Leipheimer finished only 31 seconds behind Contador in the 2007 Tour. Klöden has also stood on the podium in Paris, while the returning Armstrong has won the Tour de France a record seven times. Today's performance should put some of those doubts to rest, though it remains to be seen just how well the team supports the Spanish rider in his efforts to win a second Tour de France.
Looking beyond the Astana Ménage, Cadel Evans sits just 5 seconds behind Contador. The Australian has finished second at the Tour for two years running. In 2007, he fell just 23 seconds short of beating Contador. This year, Evans out-rode the Spanish talent at the opening time trial of the Critérium Dauphiné Libéré, but could not repeat that performance today. Still, the Australian has ridden into a good position with three weeks of racing to go.
Last year's winner, Carlos Sastre of Cervélo TestTeam sits 47 seconds down on Alberto Contador. Sastre is never at his best in the first week of a grand tour. Solid, though not spectacular against the watch, Sastre will wait for the mountains. His best chances will come on the three mountain top finishes of this year's Tour, and the difficult mountain stages of the third week. No doubt he would like to be closer to Contador on time, but the quiet Spanish climber is not one to worry and will wait patiently for his chance.
Though he has yet to finish high in the Tour's general classification, Roman Kreuziger of Liquigas-Doimo has opened his Tour campaign with a strong ride against the watch. Kreuziger, who last year won the Tour de Suisse, sits 14 seconds behind Contador. The Czech all-arounder shares team leadership duties with Italian Vincenzo Nibali, who also did a good ride today. Nibali sits 19 seconds behind Contador. Nibali has frequently faltered in the high mountains, but this year's Tour course, with only three mountain top finishes, may suit him better than most.
On the subject of young talents, Andy Schleck of Saxo Bank now sits 41 seconds behind Alberto Contador in the general classification. Widely touted as a future winner of the Tour de France, the younger Schleck brother will need a big ride in the mountains to overtake Alberto Contador. Indeed, the battle between Schleck and Contador in the mountains could well turn out to be one of the highlights of this year's Tour. Certainly, Schleck will have strong support from his Saxo Bank team.
Last year's fifth place finisher Christian Vandevelde of Garmin-Slipstream crashed out of the Giro, and has steadily rebuilt his form over the past month. Vandevelde finished seventeenth today, and sits 39 seconds behind Alberto Contador. Vandevelde is typically better against the watch than in the mountains, but he is a consistent rider who could ride into the race. Don't count him out just yet, though it will be a big ask for the American to repeat his high finish of last year. Vandevelde's team-mate Bradley Wiggins finished third in Monaco and some in the press have touted his chances as a general classification rider. During the first week of the Giro, Wiggins rode high in the standings, but has said that he does not handle successive days in the high mountains especially well, which is a necessary skill for chasing the Yellow Jersey.
It was a rough day over at Rabobank, meanwhile, where team leader and Giro d'Italia winner Denis Menchov did not have a good race in Monaco. The Russian, who typically rides well against the watch, finished 1:31 down on Cancellara, who caught him in the closing kilometers. Menchov now trails Contador in the general classification by 1:13. His Rabobank team-mate Robert Gesink finished 1:15 down on Cancellara, and sits 57 seconds down on Contador. Gesink makes his Tour de France début this year, and is at his best in the high mountains. Though his time trialing has improved steadily, he has not yet gained the strength to challenge the top riders. Perhaps Gesink will find the Polka Dot Jersey to his liking, but with three weeks left to race, it is too early to rule out a good general classification finish for the young Dutch rider.
Other General Classification riders: Mikel Astarloza of Euskaltel-Euskadi @ :44, Linus Gerdemann of Milram @ 1:03, Vladimir Karpets of Katusha @ 1:07, Michael Rogers of Columbia-HTC @1:13, Marzio Bruseghin of Lampre-Ngc @ 1:17. (All gaps here to Cancellara.)
Alberto Contador had the fastest time at the first intermediate time check on the Côte de Beausoleil, and now leads the mountains classification. The Green Jersey of points leader goes to stage winner Fabian Cancellara, but Bradley Wiggins will wear the jersey for tomorrow's stage. In the white jersey competition, Roman Kreuziger of Liquigas-Doimo leads Tony Martin of Columbia-HTC by 1 second. Vincenzo Nibali of Liquigas-Doimo is third at 5 seconds. With four riders in the top ten of today's stage, Team Astana leads the teams classification. Saxo Bank sits second at 31 seconds.
Looking Ahead
Tomorrow's stage runs between Monaco and Brignoles. The course follows the Mediterranean coast for much of the day, before turning inland to finish in Brignoles. There are four categorized climbs on the profile, though none of them is especially difficult. It should be a day for the sprinters' teams to shine, but the climbs will complicate their efforts to keep the breakaways in check.
It's rare for a team not to defend the race leader's jersey, and we can expect to see Saxo Bank on the front tomorrow. But they will be looking for help from the sprinters' teams, and if they don't find it, Cancellara's team may let the jersey go. For Saxo Bank has ambitions to win this Tour de France with Andy Schleck, and they will not want to run short of legs in the crucial mountain stages of the third week. Still, Cancellara has said he wants to hold the jersey for as long as possible.
The sprinters should prevail, but a determined escape could well survive to the finish in Brignoles. The prize? A stage win and the possibility of taking over the Yellow Jersey. — Gavia

chart source: rec.bicycles.racing

---
This stage preview is available in the following languages:

(We are looking for translations in ALL other languages. Please submit your translation with the stage no. and language in the subject title.)

Course Preview
Previa etapa 1: MÓNACO
El Tour de Francia 2009 comienza con una contrarreloj en el Principado de Mónaco. La carrera sube por las faldas de los Alpes Maritimes, a las afueras de la ciudad, antes de descender a un final llano entre lujosos hoteles y playas mediterráneas. Con 15,5 kilómetros, la etapa resulta larga para ser un prólogo, y ofrecerá un temprano indicio de quién tiene piernas para ganar el Tour de este año. La etapa incluye una cota de 4ª categoría, la cote de Beausoleil (bonito sol, literalmente), que alcanza una altura máxima de 205 metros. La segunda mitad de carrera es un descenso siguiendo la línea de playa por el boulevard Louis II cerca de Port Hercule.
Cosas curiosas: una persona corriente puede andar la longitud de Mónaco en menos de una hora. El Principado está rodeado en sus tres lados por Francia y no está lejos de Sanremo, en la costa Liguria italiana. A lo largo de su historia, Mónaco ha estado bajo dominio inglés e italiano, y actualmente es el segundo estado independiente más pequeño del mundo. Sí, la Ciudad del Vaticano es el más pequeño, para los amantes de los  récords.
Detalles del perfil
Volvemos a la carrera. La contrarreloj empieza y acaba cerca de Port Recula en el Boulevard Louis II, nombrado tras el undécimo Príncipe de Mónaco. La subida empieza casi de salida, ya que los corredores se dirigen a la zona de colinas de las afueras de la ciudad, donde la carrera gana 200 metros en los primeros 7,5 km (ya en territorio francés). La subida tiene una pendiente media de 2,7% y está puntuada como 4ª categoría. No debemos dejarnos engañar por la pequeña pendiente media, pues la subida se compone de subida corta pero pronunciada y falso llano, subida y falso llano y  vuelta a empezar. La cota de Beausoleil alcanza 200 metros a 8 km de meta.
A partir de aquí, todo es descenso. Desde la cima de la cota, la carrera sigue la Moyenne Corniche hacia la Avenue du President Kennedy. La diferencia de alturas es de 150 metros en 4 kilómetros, así que  no es un descenso pronunciado (pendiente media del 3,8%). De la Avenue du President Kennedy hace una pequeño giro hacia la Avenue de Notre-Dame de Bon Voyage y luego una curva tipo horquilla hacia la Avenue de Jean Jaurès.
Siguiendo la costa, la carretera se vuelve llana y entra de nuevo en territorio monegasco. En los últimos 4 km de etapa, encontramos una serie de cuatro curvas de 180º para conectar con la Avenue de la Princesse Grâce. Los 3 km finales son rectos hacia la meta en el Boulevard Louis II en Port Hercule.
No es raro que el viento marino sople por las tardes en Mónaco, por lo que los corredores que empiezan más tarde podrían tener que soportar viento de cara en los kilómetros finales de Avenue de la Princesse Grâce. De todas formas, la subida parece más decisiva que el viento, ya que Mónaco es conocido por su clima templado, especialmente en los meses de verano.
Corredores a seguir
Esta primera etapa tiene mucho en común con las contrarrelojes que sirven para abrir la París-Niza y la Dauphiné Liberé. En ambas los especialistas contra el crono ven cómo se les escapan las victorias y éstas van a parar a corredores que luchan por la general. Alberto Contador ganó la primera etapa de París-Niza , y Cadel Evans hizo lo propio en Dauphiné Libéré. Esta primera etapa es muy similar a aquella de Dauphiné, que también empezaba con subida.
De cualquier modo, la primera etapa y el primer maillot amarillo del Tour de Francia es un gran premio que los croners estarán dispuestos y preparados para conseguir. Fabian Cancellara ganó la contrarreloj olímpica en Beijing y es doble campeón mundial de la especialidad. En 2004 ganó el prólogo del Tour en Lieja por 2 segundos sobre Lance Armstrong, en una etapa de 6,1 km (un verdadero prólogo). En todo caso, Cancellara se va a ver beneficiado por la distancia y podríamos verlo perfectamente como primer amarillo del Tour de Francia 2009. Si yo apostara, que no lo hago, lo haría por Cancellara para esta etapa monegasca.
Evidentemente Cancellara no es el único ciclista que ambiciona esta etapa. David Zabriskie ganó la primera etapa del Tour de Francia 2005, de 19 kilómetros de longitud, y lo hizo batiendo a Armstrong también por 2 segundos. Además, Zabriskie ostenta el título de campeón americano de contrarreloj, y ha rodado especialmente bien en algunas carreras de esta temporada, usando el Giro como preparación para este Tour. En los últimos meses no ha obtenido resultados reseñables y sin duda tiene marcada esta etapa en rojo en su calendario. Debemos esperar lo mejor de él, sin olvidar que Cancellara será difícil de batir, y le ha superado en los mundiales donde se han enfrentado. La distancia más reducida tendría que dar más opciones a Zabriskie, luego esperable una batalla entre especialistas y antiguos compañeros de equipo.
Otros corredores a considerar para esta etapa son: : Gustav Larsson, del Saxo Bank, plata olímpica en Beijing, Iván Gutierrez, Caisse d'Épargne, ex-campeón nacional de España y subcampeón en los mundiales de 2005, Bradley Wiggins, del Garmin-Slipstream, dos veces oro olímpico en pista y 4º en el prólogo del Tour 2007, Stef Clement, del Rabobank, 3rd en la contrarreloj de los mundiales 2007, Thomas Lövkvist, del Columbia-High Road, excampeón sueco de contrarreloj, and Benoît Vaugrenard, de la Français des Jeux, a ex-campeón francés de contrarreloj y octavo en la primera etapa de Dauphinè.
Para la General
Entre los candidatos a la victoria final en París, Cadel Evans y Alberto Contador deberían rodar bien en este terreno, especialmente viendo su rendimiento en la etapa inicial de Dauphinè Liberè. Evans ha sido tradicionalmente mejor contra el crono, pero Contador demostró en París-Niza que es capaz de lo mejor. Seguiremos atentamente la rivalidad que demostraron en Dauphinè, y se espera que la diferencia entre ellos sea corta.
Los compañeros de Contador, Levi Leipheimer, Lance Armstrong, y Andreas Klöden también deberían ir bien en esta primera etapa, provocando en el equipo Astana un posible conflicto al estar tantos corredores arriba en la general. Lo de siempre, saldrán rivalidades de puertas para dentro en el equipo. En recientes comentarios a la prensa, Alberto ha nombrado a Leipheimer y a Armstrong como grandes rivales en su lucha por el amarillo, y ciertamente han demostrado buenas condiciones en las cronos, pero han sufrido cuando la carretera se ha puesto muy para arriba en el Giro de Italia. ¿Estarán en mejor forma para el Tour? Contador seguramente espera que no, ya que preferiría jugarse la victoria con ciclistas que no sean de su propio equipo. De cualquier modo, es bastante probable que Astana domine la clasificación por equipos tras esta contrarreloj inicial.
 Esta primera etapa también debería ofrecer a Denis Menchov la oportunidad de ir cogiendo ventaja. El ganador del Giro de Italia 2009 siempre se luce contra el crono y esta etapa viene bien a sus características. También a Roman Kreuziger, el joven checo del Liquigas-Doimo, ganador de la Vuelta a Suiza del pasado año y este año ha acabado segundo, tras Cancellara, en la contrarreloj inicial. En su primera participación, en 2008, logró un 13º puesto que sin duda pretende mejorar. La capitanía de su equipo la compartirá con Vincenzo Nibali (top ten en el último Dauphiné) y también cuenta en su equipo con Franco Pellizotti (tercero en el Giro), aunque con pocas opciones de estar delante en Mónaco. Para ver a Pellizotti con los mejores habrá que esperar a las etapas montañosas.
Cuarto en la general del pasado Tour, Christian Vandevelde es otro de los que se defienden muy bien en los tramos cronometrados, si bien sufrió una caída en el Giro de Italia que deja algunas dudas sobre sus opciones para la general. No demostró una muy buena forma en la reciente Vuelta a Suiza, pero si podría conseguir un buen resultado en tan corta distancia. No hay, de todas formas, gran convencimiento en que pueda lograr la victoria final en París.
Los escaladores estará contentos al ver que la carretera pica hacia arriba en los primeros 7 km, pero, las flojas pendientes distan mucho de ser una ventaja para ellos. Carlos Sastre ,del Cervélo TestTeam parece ser uno de los que parten con desventaja, pero con sólo 15 kilómetros no debería estar muy atrás. El ganador del pasado año nunca muestra su mejor forma en la primera semana, aunque la subida le será de ayuda.  
Fijémonos ahora en el Saxo Bank: Andy Schleck también se deja tiempo contra el reloj, aunque, como Sastre, encontrará interesante la subida inicial. Lo mismo vale para Fränk Schleck, que es de los que no disfruta subido a la bicicleta de contrarreloj, y que empieza la carrera como co-capitán junto a su hermano, habiendo sido ya 6º en la pasada edición.  Andy, ganador del monumento Lieja-Bastoña-Lieja este año, parece ser el mejor de los hermanos en carreras de tres semanas, y ya ha sido segundo el Giro de Italia. Además, Fränk Schleck recientemente ha tenido problemas con su rodilla, lo que podría minar su forma cuando comience el Tour. 
En resumen, yo esperaría un final apretado entre los favoritos a la general en esta contrarreloj, pues la distancia no es muy larga y la subida de inicio da una oportunidad a los escaladores para que limiten sus pérdidas. El Tour no va a ser ganado en la primera etapa, pero esta contrarreloj sirve para que los corredores que estén en forma puedan ganar tiempo sobre sus rivales. También establecerá una jerarquía entre equipos y  corredores de cara a las primeras etapas de montaña en los Pirineos.
Translated by Juan Bonilla