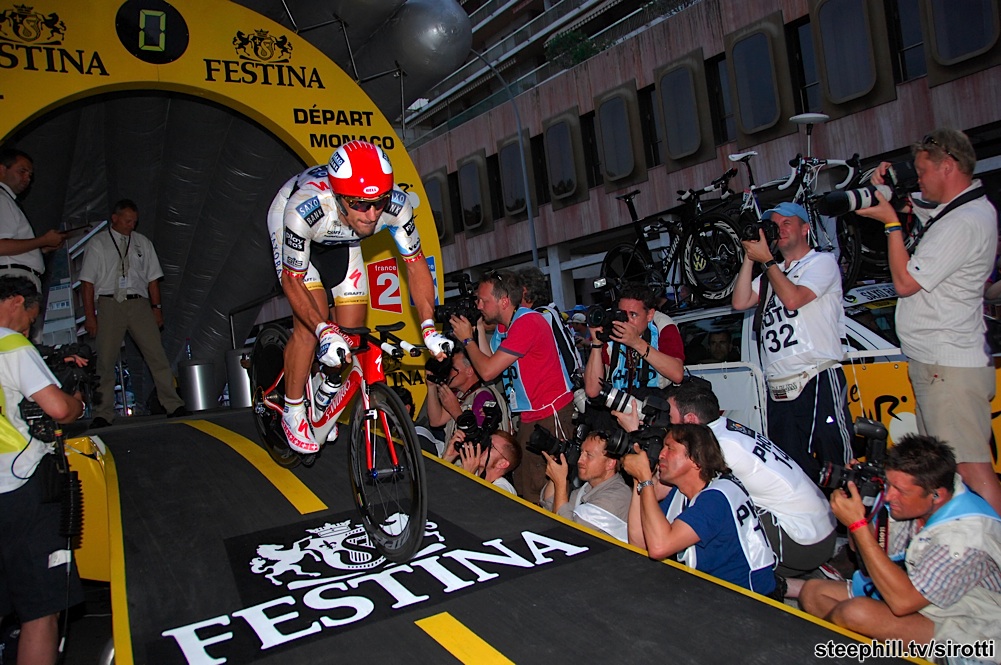 12 Big Photos from Stage 1 — sirotti and colin flockton

Full Results — letour.fr

Full Results and Report — cyclingnews

Off to the Races: Fabian Cancellara easily wins the first stage — steephill.tv

Cancellara wins Tour opener in Monaco — velonews

Tour de France Stage 1 report — cyclingweekly.co.uk

Cancellara verovert de eerste gele trui — sporza.be

Highlights and Reactions: Verslag Van De Eerste Etappe (01:34 Flemish) — sporza

Post Race: Armstrong return 'felt good' (02:08) — eurosport

Post Race: Leipheimer enjoys Monaco (02:12) — eurosport

Pre Race: Lance talks with Eddy Merckx (02:40) — livestrong

Pre-Race: Lance: "I'm here to win" — versus

Last 10 minutes/Podium finishers (10:00 english) — versus

12 Big Photos from Stage 1 — sirotti and colin flockton

Graham Watson Stage 1 Photos
— grahamwatson

Stage 1 ITT Highlights (01:57) — eurosport

Team Columbia Spotlight 'they plan to win' (01:35) — eurosport

Stage 1 Highlights, Interviews, Analysis (multiple clips) — versus

ITV stage 1 podcast with Matt Rendell, Ned Boulting and Chris Boardman: stage 1 roundtable; interviews with stage winner Fabian Cancellara and Bjarne Riis — ITV

Bikeradar stage 1 podcast: Author Richard Moore joins Procycling's Daniel Friebe and Ellis Bacon to round up the results — bikeradar

Post Stage Analysis
Off to the Races
Fabian Cancellara wins stage, takes first Yellow Jersey
An on-form Fabian Cancellara won today's opening time trial stage of the Tour de France. The former World Champion trailed Bradley Wiggins at the top of the Côte de Beausoleil, and it looked for a time as if the British rider from Garmin-Slipstream would wear the first Yellow Jersey of the Tour. Spanish time trial champion Alberto Contador of Team Astana then blasted over the côte with a still faster time.
But Cancellara was having none of it. The Swiss talent, who has twice before won the opening time trial at the Tour, used his acrobatic bike handling on the sinuous descent back to Monaco. The Olympic and former World champion in the time trial has otherworldly bike-handling and he needed them on the narrow, twisting road into Monaco. Inside the final kilometers Cancellara overtook his minute-man, Giro d'Italia winner Denis Menchov, himself no slouch against the watch. At the line, Cancellara beat the time of Bradley Wiggins by 19 seconds, a significant margin in a 15.5 kilometer test.
Still out on course, Alberto Contador continued his big ride, but could not match the speed of Cancellara. Contador, whose time trial skills have improved significantly this season, finished second, 18 seconds behind the Swiss champion. In the battle for the general classification, Contador has seized an early advantage, though Australian Cadel Evans of Silence-Lotto sits just 5 seconds behind.
"I have showed that I am the best specialist in the time trial," declared Cancellara after the stage. No need for false modesty from the Swiss talent. Cancellara explained that he took his share of risks to win the stage, but dismissed them as "normal." "I know how to pilot my bike very well," he commented. Recognizing his advantage in the descent and the flats, the Saxo Bank rider held back on the climb. In the end, he could see Denis Menchov. "That was where I made the difference," Cancellara said. The Swiss talent has had a difficult season, which included a training crash at the beginning of March. The crash ruined his preparation for the Ronde van Vlaanderen, his main objective for the Spring. "It was a difficult moment, because I have known three or four years of big victories," Cancellara recounted in Monaco. The Swiss rider said he hopes to keep the jersey as long as possible, and with no time bonuses for the stage winners, he could hold the jersey for much of this first week.
For his part, Alberto Contador of Astana told the media after the stage that he was "very content" with today's result. "I am not disappointed, I am very happy with the result, Cancellara is a grand champion," he said. When asked about the team dynamics between Armstrong and him, Contador said, "This does not preoccupy me very much. The media talks about a conflict, but the relationship within the team is good." Lance Armstrong, who returns to the Tour after a four year absence, finished tenth, 40 seconds behind Cancellara. Contador, meanwhile, who currently wears the Polka Dot Jersey, said, "I would like very much to change this jersey, I want to wear the Yellow."
General Classification Update
Fabian Cancellara, Saxo Bank
Alberto Contador, Astana, at 0.18
Bradley Wiggins, Garmin-Slipstream, at 0.19
Andreas Klöden, Astana, at 0.22
Cadel Evans, Silence-Lotto, at 0.23
Levi Leipheimer, Astana, at 0.30
Roman Kreuziger, Liquigas-Doimo, at 0.32
Tony Martin, Columbia-HTC, at 0.33
Vincenzo Nibali, Liquigas-Doimo, at 0.37
Lance Armstrong, Astana, at 0.40
In the general classification battle, pre-race favorite Alberto Contador has given notice that he has come to this Tour de France with excellent form. The Spanish rider from Team Astana had the fastest time of the general classification favorites in Monaco. He has also put himself at the top of the team hierarchy at Team Astana, at least for now. Contador leads Andreas Klöden by 3 seconds, Levi Leipheimer by 12 seconds, and Lance Armstrong by 22 seconds.
According to Astana's press comments, Contador is the undisputed team leader for this race, but many observers have wondered how well the talented cast at Astana will work together. After all, Leipheimer finished only 31 seconds behind Contador in the 2007 Tour. Klöden has also stood on the podium in Paris, while the returning Armstrong has won the Tour de France a record seven times. Today's performance should put some of those doubts to rest, though it remains to be seen just how well the team supports the Spanish rider in his efforts to win a second Tour de France.
Looking beyond the Astana Ménage, Cadel Evans sits just 5 seconds behind Contador. The Australian has finished second at the Tour for two years running. In 2007, he fell just 23 seconds short of beating Contador. This year, Evans out-rode the Spanish talent at the opening time trial of the Critérium Dauphiné Libéré, but could not repeat that performance today. Still, the Australian has ridden into a good position with three weeks of racing to go.
Last year's winner, Carlos Sastre of Cervélo TestTeam sits 47 seconds down on Alberto Contador. Sastre is never at his best in the first week of a grand tour. Solid, though not spectacular against the watch, Sastre will wait for the mountains. His best chances will come on the three mountain top finishes of this year's Tour, and the difficult mountain stages of the third week. No doubt he would like to be closer to Contador on time, but the quiet Spanish climber is not one to worry and will wait patiently for his chance.
Though he has yet to finish high in the Tour's general classification, Roman Kreuziger of Liquigas-Doimo has opened his Tour campaign with a strong ride against the watch. Kreuziger, who last year won the Tour de Suisse, sits 14 seconds behind Contador. The Czech all-arounder shares team leadership duties with Italian Vincenzo Nibali, who also did a good ride today. Nibali sits 19 seconds behind Contador. Nibali has frequently faltered in the high mountains, but this year's Tour course, with only three mountain top finishes, may suit him better than most.
On the subject of young talents, Andy Schleck of Saxo Bank now sits 41 seconds behind Alberto Contador in the general classification. Widely touted as a future winner of the Tour de France, the younger Schleck brother will need a big ride in the mountains to overtake Alberto Contador. Indeed, the battle between Schleck and Contador in the mountains could well turn out to be one of the highlights of this year's Tour. Certainly, Schleck will have strong support from his Saxo Bank team.
Last year's fifth place finisher Christian Vandevelde of Garmin-Slipstream crashed out of the Giro, and has steadily rebuilt his form over the past month. Vandevelde finished seventeenth today, and sits 39 seconds behind Alberto Contador. Vandevelde is typically better against the watch than in the mountains, but he is a consistent rider who could ride into the race. Don't count him out just yet, though it will be a big ask for the American to repeat his high finish of last year. Vandevelde's team-mate Bradley Wiggins finished third in Monaco and some in the press have touted his chances as a general classification rider. During the first week of the Giro, Wiggins rode high in the standings, but has said that he does not handle successive days in the high mountains especially well, which is a necessary skill for chasing the Yellow Jersey.
It was a rough day over at Rabobank, meanwhile, where team leader and Giro d'Italia winner Denis Menchov did not have a good race in Monaco. The Russian, who typically rides well against the watch, finished 1:31 down on Cancellara, who caught him in the closing kilometers. Menchov now trails Contador in the general classification by 1:13. His Rabobank team-mate Robert Gesink finished 1:15 down on Cancellara, and sits 57 seconds down on Contador. Gesink makes his Tour de France début this year, and is at his best in the high mountains. Though his time trialing has improved steadily, he has not yet gained the strength to challenge the top riders. Perhaps Gesink will find the Polka Dot Jersey to his liking, but with three weeks left to race, it is too early to rule out a good general classification finish for the young Dutch rider.
Other General Classification riders: Mikel Astarloza of Euskaltel-Euskadi @ :44, Linus Gerdemann of Milram @ 1:03, Vladimir Karpets of Katusha @ 1:07, Michael Rogers of Columbia-HTC @1:13, Marzio Bruseghin of Lampre-Ngc @ 1:17. (All gaps here to Cancellara.)
Alberto Contador had the fastest time at the first intermediate time check on the Côte de Beausoleil, and now leads the mountains classification. The Green Jersey of points leader goes to stage winner Fabian Cancellara, but Bradley Wiggins will wear the jersey for tomorrow's stage. In the white jersey competition, Roman Kreuziger of Liquigas-Doimo leads Tony Martin of Columbia-HTC by 1 second. Vincenzo Nibali of Liquigas-Doimo is third at 5 seconds. With four riders in the top ten of today's stage, Team Astana leads the teams classification. Saxo Bank sits second at 31 seconds.
Looking Ahead
Tomorrow's stage runs between Monaco and Brignoles. The course follows the Mediterranean coast for much of the day, before turning inland to finish in Brignoles. There are four categorized climbs on the profile, though none of them is especially difficult. It should be a day for the sprinters' teams to shine, but the climbs will complicate their efforts to keep the breakaways in check.
It's rare for a team not to defend the race leader's jersey, and we can expect to see Saxo Bank on the front tomorrow. But they will be looking for help from the sprinters' teams, and if they don't find it, Cancellara's team may let the jersey go. For Saxo Bank has ambitions to win this Tour de France with Andy Schleck, and they will not want to run short of legs in the crucial mountain stages of the third week. Still, Cancellara has said he wants to hold the jersey for as long as possible.
The sprinters should prevail, but a determined escape could well survive to the finish in Brignoles. The prize? A stage win and the possibility of taking over the Yellow Jersey. — Gavia

chart source: rec.bicycles.racing

---
This stage preview is available in the following languages:

(We are looking for translations in ALL other languages. Please submit your translation with the stage no. and language in the subject title.)

Course Preview

Pregled staze
Tour de France 2009 počinje trkom na hronometar u kneževini Monako. Staza se penje u obronke Maritimnih Alpa van grada, a zatim se spušta do ciljne ravnine između visokih hotelskih zgrada i pjeskovitih plaža Mediterana. Sa svojih 15.5 kilometara, staza je preduga da bi bila prolog i pružiće rane naznake o tome ko je sa pobjedničkim nogama došao na ovogodišnji Tour de France. Staza uključuje jedan uspon 4. kategorije, Côte de Beausoleil, u prevodu "lijepo sunce", koji dostiže maksimalno uzvišenje od 205 metara. Druga polovina staze se spušta do ciljne ravnine uz plažu na bulevaru Louis II blizu Port Hercule.
Zanimljiv podatak! Prosječna osoba može prehodati kneževinu Monako za manje od jednog sata. Država je okružena Francuskom sa tri strane svijeta i nalazi se nedaleko od San Rema na ligurijskoj obali Italije. U toku svoje istorije, Monako je potpadao pod francusku i italijansku vlast, a trenutno na svijetu postoji samo jedna nezavisna država manja od nje. Vatikan je najmanja, za vas koji želite taj podatak.
Detalji profila
Nazad na biciklističku trku. Etapa počinje i završava blizu Port Hercule na bulevaru Louis II, imenovanom po jedanaestom princu od Monaka. Staza se odmah uspinje i biciklisti zalaze u brežuljke odmah izvan grada. Prolazeći kroz francusku teritoriju, staza se uspinje 200 metara za prvih 7.5 kilometara. Uspon ima prosječan nagib od 2.7% i rangiran je kategorijom 4. Prosječni nagib je pomalo obmanjujući, jer je uspon stepenast. Uspinje se u kratkim, strmijim potezima, između kojih su platoi. Zapni, odmori se, ponovi. Côte de Beausoleil dostiže 200 metara uspona sa vrhom na 8 kilometara od cilja.
Odavde je sve nizbrdo. Od vrha Côte de Beausoleil, staza se spušta prateći Moyenne Corniche do avenije President Kennedy. Uzvišenje se spušta 150 metara za 4 kilometra, dakle ne radi se o strmom spustu. Prosječni nagib je 3.8%. Iz avenije President Kennedy, blagom krivinom se ulazi u aveniju Notre-Dame de Bon Voyage, onda serpentinom u aveniju Jean Jaurès.
Uzduž obale, staza postaje ravna i vraća se iz francuske teritorije u Monako. U okviru četvrtog kilometra do cilja, nalazi se serija od četiri krivine od 180 stepeni koje povezuju aveniju France sa avenijom Princesse Grâce. Posljednja tri kilometra protežu se pravo do cilja na bulevaru Louis II kod Port Hercule.
Nije neuobičajena pojava da vjetar duva s mora u toku popodneva u Monaku. Zbog toga, biciklisti koji kreću kasnije, mogu naići na bočni i frontalni vjetar na završnim kilometrima na aveniji Princesse Grâce. Međutim, uspon će biti odlučujući više nego vjetar, jer je Monako poznat po blagoj klimi, pogotovo u toku ljetnjih mjeseci.
Na koga pripaziti
Staza ove prve etape ima mnogo toga zajedničkog sa kratkim trkama na hronometar koje su otvorile Paris-Nice i Critérium Dauphiné Libéré. U obje navedene trke, pobjeda je izmakla hrono-specijalistima i cvijeće je na podijumu otišlo u ruke biciklista koji pretenduju na generalni plasman. Alberto Contador je pobijedio u otvarajućoj trci na hronometar na Paris-Nice, dok je Cadel Evans pobijedio na prvoj etapi Critérium Dauphiné Libéré. Ova etapa Toura dosta liči na prvu etapu Dauphiné Libéré, koja je takođe počela sa usponom.
Ipak, prva etapa i prva žuta majica na Tour de France su ogromna nagrada, tako da će hrono-specijalisti biti naoštreni i spremni za pobjedu. Fabian Cancellara je pobijedio na olimpijskoj trci na hronometar u Pekingu i dvostruki je svjetski šampion u toj disciplini. 2004. godine pobijedio je na Tour de France prologu u Liježu, kad je bio 2 sekunde brži od Lance Armstronga. Kao pravi prolog, etapa iz 2004 je bila duga samo 6.1 kilometara. Ovaj put će duža staza još više ići na ruku Cancellari, i vrlo je moguće da će on nositi prvu žutu majicu u Tour de France 2009. Da sam kladioničar, kao što nisam, ali da jesam, kladio bih se da će Cancellara pobijediti na ovoj stazi u Monaku.
Naravno, Cancellara nije jedini biciklista sa ambicijama za pobjedu u ovoj prestižnoj prvoj etapi. 2005. godine, David Zabriskie je pobijedio na 19 kilometara dugoj prvoj etapi Tour de France. Kao i Cancellara godinu dana prije toga, Zabriskie je bio 2 sekunde bolji od Lance Armstronga. Istina, čudnija od fantazije. Zabriskie je državni prvak SAD u trci na hronometar. Dobro se pokazao u par trka ovogodišnje rane sezone, i učestvovao na Giro d'Italia u okviru priprema za Tour de France. Posljednjih par mjeseci nije ostvario zapažene rezultate i bez sumnje ima etapu u Monaku zaokruženu u svom kalendaru. Zabriskie bi trebalo da "pocijepa" ovu stazu, mada će mu biti jako teško da pobijedi Cancellaru. Zaista, Zabriskie je bio sporiji od Cancellare u njihovih par posljednjih susreta na svjetskim šampionatima. Relativno kratka staza mu može ići na ruku, tako da možemo očekivati ravnopravnu borbu između ove dvojice specijalista i bivših klupskih drugara.
U preostale lovce na pobjedu u ovoj etapi spadaju: Gustav Larsson iz ekipe Saxo Bank, koji je bio drugi na olimpijskoj trci na hronometar prošle godine, José Ivan Gutierrez iz ekipe Caisse d'Épargne, bivši državni prvak Španije i drugi na prvenstvu svijeta 2005 u ovoj disciplini, Bradley Wiggins iz ekipe Garmin-Slipstream, dvostruki osvajač olimpijske zlatne medalje i četvrti u prologu Tour de France 2007, Stef Clement iz ekipe Rabobank, treći na trci na hronometar na prvenstvu svijeta 2007, i Benoît Vaugrenard iz ekipe Français des Jeux, bivši francuski državni prvak u trci na hronometar i osmi na prvoj etapi Dauphiné Libéré.
Kandidati za generalni plasman
Među kandidatima za generalni plasman, Cadel Evans i Alberto Contador bi trebali dobro proći na ovoj etapi, pogotovo sudeći po njihovim odličnim rezultatima na otvarajućoj trci na hronometar na Dauphiné Libéré. Evans se obično bolje pokazivao na hronometru, ali je Contador takođe išao kao munja na Paris-Nice. Očekujte od ove dvojice da nastave njihovo tijesno rivalstvo sa Dauphiné Libéré i da završe etapu u Monaku sa malom vremenskom razlikom.
Contadorovi klupski drugari Levi Leipheimer, Lance Armstrong i Andreas Klöden bi trebalo da dobro voze u ovoj prvoj etapi, pripremajući mogućnost višestruke prijetnje na generalni plasman od strane ekipe Astana. Ili to, ili gorko rivalstvo unutar same ekipe. Nedavno je, u izjavama datim štampi, Contador imenovao i Leipheimera i Armstronga kao ključne rivale u trci za žutu majicu u Parizu. Oba Amerikanca su bila dobro plasirana na prethodnim trkama na hronometar, ali su se obojica takođe mučila kad je put kretao uzbrdo na ovogodišnjem Giro d'Italia. Da li će biti u boljoj formi u Francuskoj? Contador se svakako nada da neće, jer zasigurno ne želi da se bori za generalni plasman protiv sopstvenih klupskih drugara. U svakom slučaju, Astana će najvjerovatnije dominirati u ekipnom plasmanu poslije ove otvarajuće trke na hronometar.
Otvarajuća trka na hronometar bi trebalo da pruži mogućnost Denisu Menchovu da ostvari ranu prednost. Pobjednik Giro d'Italia 2009 odlično vozi na hronometar i trebalo bi da mu ova staza odgovara. Slično važi za Romana Kreuzigera, mladog češkog biciklistu iz ekipe Liquigas-Doimo, koji je prošle godine osvojio Tour de Suisse, a ove godine bio drugi iza Cancellare na otvarajućoj 7 kilometara dugoj trci na hronometar u Švajcarskoj. Vozeći svoj prvi Tour de France, Kreuziger je prošle godine bio trinaesti u generalnom plasmanu i bez sumnje želi da poboljša taj rezultat. Dijeliće kapitensku ulogu u ekipi Liquigas-Doimo sa Vincenzom Nibalijem, koji je nedavno završio među prvih 10 na Critérium Dauphiné Libéré. Franco Pellizotti, treći na ovogodišnjem Giro d'Italia, će takođe voziti Tour za Liquigas-Doimo, iako ne izgleda da će se visoko plasirati na ovoj otvarajućoj etapi. Pričekajte planine ako želite vidjeti plavokosog Pellizottija u prvim redovima.
Četvrti u generalnom plasmanu na prošlogodišnjem Tour de France, Christian Vandevelde je uvijek dobro vozio protiv štoperice, ali je Amerikanac doživio gadan pad na Giro d'Italia, koji je podstakao sumnje o njegovim šansama da ponovi tako visok generalni plasman. Nije pokazao posebno jaku formu nedavno na Tour de Suisse, ali može se pokazati sposobnim da izvuče dobar rezultat na kratkoj razdaljini ove otvarajuće etape. S druge strane, njegove šanse za konačnu pobjedu u Parizu, ne izgledaju velike.
Penjačima će biti drago što put vodi uzbrdo u prvih 7 kilometara, ali nagibi nisu dovoljno strmi da bi im dali veliku prednost. Carlos Sastre iz ekipe Cervélo TestTeam će po svoj prilici otvoriti svoj pohod na Tour sa zaostatkom za svojim rivalima, ali sa samo 15 kilometara staze, ne bi trebalo da previše zaostane. Prošlogodišnji pobjednik Tour de France nikad nije u top formi u toku prve nedjelje, mada će mu uspon na ovoj stazi pomoći.
U ekipi Saxo Bank, Andy Schleck je takođe lošiji protiv štoperice od svojih rivala, ali kao i Sastre, uživaće u početnom usponu. Isto važi za Fränk Schlecka koji nikako ne voli bicikl za trku protiv štoperice. Schleck stariji je bio šesti u generalnom plasmanu na prošlogodišnjem Touru, i počinje ovogodišnju trku kao ko-kapiten sa svojim bratom Andyjem, koji je već pobijedio na monumentalnoj trci Liège-Bastogne-Liège ove sezone. Andy Schleck će se po svoj prilici pokazati bolji među dvojicom braće na tronedjeljnim trkama, a već je bio drugi u generalnom plasmanu na Giro d'Italia 2007. Fränk Schleck je takođe doskora imao probleme sa koljenom, i može se desiti da ne bude u top formi kada Tour počne u Monaku.
Sve u svemu, očekujem blizak finiš među kandidatima za generalni plasman na ovoj otvarajućoj etapi. Razdaljina je relativno kratka, a početni uspon pruža priliku penjačima da ograniče gubitke. Tour neće biti osvojen ili izgubljen na ovoj prvoj etapi, ali ona daje šansu biciklisti u formi da uzme početnu prednost nad svojim rivalima. Takođe će uspostaviti početnu hijerarhiju među timovima i biciklistima prije prve runde planinskih etapa u Pirinejima.
translation by Djordje Cenic