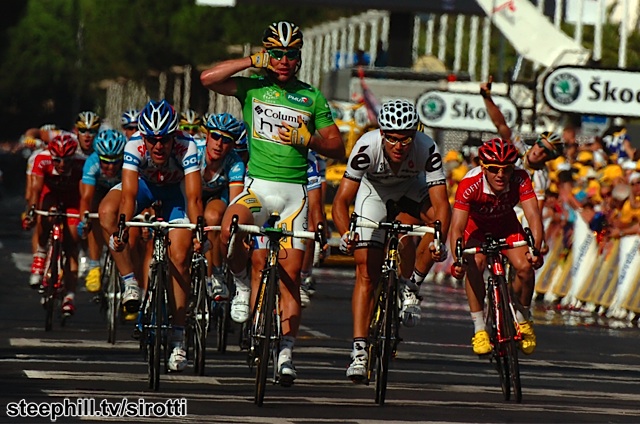 9 Big Photos from Stage 3 — sirotti



Full Results (click on "Stage Standing") — letour.fr

Cavendish wins dramatic stage into La Grande-Motte — cyclingnews

Twee op twee voor de snelle Mark Cavendish — sporza.be

Last 2 Km (03:10 dutch) — nos

Cav' crushes in stage 3 as late break astonishes field — velonews

Mark Cavendish post-race interview (00:47) — eurosport

Last Km (00:59 no audio) — eurosport

Allan Peiper, the man in the car behind Cav's wins (02:33) — eurosport

Stage 3: Winners and Losers! — podiumcafe

Differing accounts from Cavendish and Rogers on stage 3 — cyclingnews

Contador didn't follow the break, says French racer: It was Contador's failure to stick to the wheel in front of him which caused the split with around 30km to go — bikeradar

Stage 3 Highlights (01:49) — eurosport

Graham Watson Stage 3 Photos — grahamwatson

A well edited montage of video highlights set to music (02:23) — eurosport

Tour analysis: Why the bunch split and who gained the most — cyclingweekly.co.uk

Stage 3 Highlights, Interviews, Analysis (multiple clips) — versus

Armstrong Surge Comes in Early Tour Surprise — nytimes

Stage 3 Recap/Highlights (03:12) — letour.fr/aso

ITV stage 3 podcast with Matt Rendell, Ned Boulting and Chris Boardman — ITV

9 Big Photos from Stage 3 — sirotti

Post Stage Analysis
Two Straight for Cavendish
Columbia splits the field, Armstrong advances, Cancellara still in Yellow
Team Columbia-HTC once again showed its strength in this Tour de France, this time turning the screws in the crosswinds of the Camargue and riding away with the race. After a perfect lead-out from Mark Renshaw, Mark Cavendish won his second straight stage win over the small group who survived the Columbia whirlwind. Cavendish also added to his advantage in the points classification, which he now leads by a solid margin over Thor Hushovd of Cervélo TestTeam, who finished second today.
The Columbia-propelled split also revealed the fissures at Team Astana as Lance Armstrong joined the Columbia move with two team-mates and rode away from 2007 Tour de France winner Alberto Contador. Armstrong finished the day only 19 seconds up on Contador, but the decision to ride, rather than sit on the Columbia move, surely made for awkward dinner conversation at Team Astana tonight. Fabian Cancellara, meanwhile, made the split and defended his Yellow Jersey for another day. The Saxo Bank rider leads Tony Martin of Columbia-HTC by 33 seconds and Lance Armstrong of Team Astana by 40 seconds.
The Story
The day began ordinarily enough, when a four man breakaway escaped early in the stage. The break included: Samuel Dumoulin of Cofidis, Koen de Koert of Skil-Shimano, Maxime Bouet of Agritubel, and Ruben Perez Moreno of Euskaltel-Euskadi. The smallest rider in the bunch, Samuel Dumoulin won stage 3 of last year's Tour de France. In bike racing, luck is where you find it.
The main field proved apathetic and the escape built up an advantage of 10 minutes after just 26 kilometers of racing. Mark Cavendish said after the stage that it reminded him of junior racing, because nobody wanted to work on the front. Saxo Bank, the team of race leader Fabian Cancellara, took responsibility for controlling the break, but none of the sprinters wanted to help Columbia-HTC deliver Cavendish to the line. After his dominance in the final kilometer yesterday, their reluctance is not especially surprising.
Midway through the stage, the breakaway crossed the two categorized climbs with about 8 minutes of their advantage intact. Koen de Kort of Skil Shimano won the points on both of the category 4 climbs. Counting down the kilometers to the finish, the race headed into the Camargue region, the marshy delta of the Rhône River. The Camargue is flat, open terrain, and runs along the sea. Winds are common here.
With 40 kilometers to go, both Saxo Bank and Columbia-HTC began riding harder on the front. The bunch began to shift and curve as the winds, alternating between headwinds and crosswinds, began to hit the riders. The gap to the breakaway, meanwhile, began to shrink, and the four escapers retained just over 3 minutes of their advantage. Liquigas-Doimo also began to contribute to the chase in support of their sprinter Daniele Bennati.
At first, the wind did not seem strong enough to make a difference. Then, suddenly it did. Inside 35 kilometers to go, Columbia-HTC turned the screws as the wind began to blow over their left shoulders. Gaps began to open up, as riders scrambled to stay in contact and Columbia-HTC put it in the gutter in yet another show of team dominance. If the other sprinters' teams weren't going to contribute to the chase, well, Columbia-HTC would simply ride to the finish without them. Cycling is a cruel sport somedays.
But the sprinters were not the only ones left behind today. Lance Armstrong of Astana proved quick to see the potential in the Columbia move. Armstrong and his loyal lieutenants Jaroslav Popovych and Haimar Zubeldia made the split. Alberto Contador, the ostensible leader of Astana, did not. Linus Gerdemann of Milram, who has general classification hopes, also made the move with his team-mate Fabian Wegmann. Skil-Shimano, wildcard team this year, managed to put four riders into this elite group. Race leader Fabian Cancellara made the split, but his Saxo Bank team's general classification hope Andy Schleck did not.
With 35 kilometers to race, the gap had opened to 38 seconds. Behind, Silence-Lotto chased hard on the front with the help of Saxo Bank. Silence-Lotto team leader Cadel Evans even took a few turns on the front. Garmin-Slipstream and Liquigas-Doimo also helped. Under the pressure from the determined chase, the main field split again, but despite their best efforts, none could make a difference against the combined force of the Columbia-HTC team.
Up ahead, Astana began to cooperate with Columbia-HTC to increase the advantage of Lance Armstrong over the other general classification favorites, including Alberto Contador. In a moment of déjà vu, Jaroslav Popovych swapped pulls with former team-mate George Hincapie. Cancellara, meanwhile, sat on, despite the demands from Armstrong that everyone contribute to the pace-making. Loyal to his team-mates in the main field, Cancellara had no interest in helping either Armstrong or Cavendish.
Inside the 2 kilometers to go banner, the front group held 38 seconds over the chase and began to organize for the sprint. Skil-Shimano went to the front to set up their sprinter Cyril Lemoine, but they proved no match for Columbia-HTC. Mark Renshaw took over and delivered Cavendish to the 200 meter mark. With a headwind at the finish, Cavendish started his sprint closer to the line today. Thor Hushovd of Cervélo TestTeam finished second, Cyril Lemoine of Skil-Shimano, third.
The main field, containing the general classification favorites, crossed the line 41 seconds later. Though the winds led to a dramatic day of racing, in the long run, the split today seems unlikely to prove decisive. Alberto Contador trails his team-mate Lance Armstrong by 19 seconds, while Cadel Evans of Silence-Lotto sits 24 seconds behind the American. With the high mountains still to come, those time gaps likely won't count for too much.
At the same time, today's stage certainly raises questions about the notion that Team Astana is united behind Alberto Contador. During the Giro d'Italia, we saw Astana split between Levi Leipheimer's general classification ambitions and Lance Armstrong's personal goals. Chris Horner, who did not make the Tour de France team, rode for Leipheimer, while Popovych frequently rode at the side of Armstrong. Today we saw a similar dynamic. Armstrong, with Popovych and Zubeldia for support, rode to his advantage, and against his team-mate Contador back in the main field. For Astana's adversaries, the key to winning this Tour de France may lie in exploiting this division between Armstrong and Contador.
General Classification Update
Fabian Cancellara
Tony Martin Columbia-HTC :33
Lance Armstrong Astana :40
Alberto Contador Astana :59
Bradley Wiggins Garmin-Slipstream 1:00
Andreas Klöden Astana 1:03
Linus Gerdemann Milram 1:03
Cadel Evans Silence-Lotto 1:04
Maxime Monfort Columbia-HTC 1:10
Levi Leipheimer Astana 1:11
Fabian Cancellara successfully defended his race lead today, with his trademark combination of strong legs and smart tactics. Cancellara holds a 33 second advantage over Tony Martin of Columbia-HTC, who moved up from eighth place thanks to his team's hard riding in the finale. Lance Armstrong, who also made the split, moves up to third and sits 40 seconds behind Cancellara. Armstrong's team-mate Alberto Contador, who did not make the split, is 19 seconds behind him.
Linus Gerdemann of Milram and Maxime Monfort of Columbia-HTC both move into the top ten after their smart riding today. The remaining general classification favorites finished in the main field 40 seconds behind the break. No doubt they would have preferred not to have conceded 40 seconds to Armstrong, but it remains to be seen just how well the American will ride in this Tour de France. He will need a significant improvement from the form he showed at the Giro d'Italia, if he hopes to rival the best riders at this Tour. The climb to Arcalis will be the first important test for the returning seven-time Tour winner, who said after today's stage that he wants to wear Yellow in Paris.
Other General Classification favorites: Michael Rogers of Columbia-HTC @ 1:13, Roman Kreuziger of Liquigas-Doimo @ 1:13, Vincenzo Nibali of Liquigas-Doimo @ 1:18, Mikel Astarloza of Euskaltel-Euskadi @ 1:25, Christian Vandevelde of Garmin-Slipstream @ 1:38, Andy Schleck of Saxo Bank @ 1:41, Carlos Sastre of Cervélo TestTeam @ 1:47, Vladimir Karpets of Katusha @ 1:48.
Other Jerseys: With his stage win today, Mark Cavendish increased his lead in the Points classification to 70 points. Thor Hushovd finished second and remains Cavendish's closest challenger with 54 points. Tyler Farrar of Garmin-Slipstream, who finished second yesterday, finished out of the points today. Jussi Veikkanen of Français des Jeux leads the mountains classification ahead of Tony Martin and Koen de Kort of Skil-Shimano. Tony Martin, meanwhile, takes over the lead in the Young Riders classification from Roman Kreuziger. Kreuziger trails by 40 seconds. Samuel Dumoulin of Cofidis received the award for most combative rider after his long day out in the breakaway.
Looking Ahead
Tomorrow the riders face a 39 kilometer team time trial in Montpellier. The stage is an important test for the general classification riders, who will need their teams to ride well here. After today's hijinx, some teams may bring tired legs to this important stage. With only 39 kilometers of racing on the menu, the time gaps should not be huge, but with few decisive stages in this Tour, the general classification riders will need to seize their advantages where they may.
Garmin-Slipstream has identified this stage as a major objective. The American team worked in the chase today, but they will hope to have good legs tomorrow. Though Columbia-HTC blew the race apart today, we can't count out a good ride from them on tomorrow's stage. Armstrong will certainly want to wear the Yellow Jersey, but he will need to take 40 seconds out of Cancellara's Saxo Bank team. No slouches against the watch, Saxo Bank should be up to the task of defending the race lead. — Gavia
For more information about tomorrow's stage, please turn the page.
---
This stage preview is available in the following languages:

(We are looking for translations in ALL other languages. Please submit your translation with the stage no. and language in the subject title.)

Course Preview
Etappenvorschau
Die Anstiege
Côte de Calissanne, 1,3 km, durchschnittliche Steigung 5,5 %, 4. Kategorie
Col de la Vayède, 0,7 km, durchschnittliche Steigung 7,4 %, 4. Kategorie
Auch die dritte Etappe folgt der Mittelmeerküste Frankreichs. Sie beginnt in der Hafenstadt Marseille, verläuft östlich des Rhônedeltas und endet in dem Touristenstadt La Grande-Motte. Im Profil der Etappe finden sich zwei Anstiege der 4. Kategorie, wegen derer die Teams der Sprinter jedoch keinen Schlaf verlieren werden. Auf der Avenue Robert Fages in La Grande-Motte sollte aller Voraussicht nach ein Sprinter den Sieg davontragen.
Marseille ist ein regelmäßiger Gastgeber der Tour de France. Der letzte Besuch datiert aus dem Jahr 2007, als Cédric Vasseur, der damals für Quick Step fuhr, die zehnte Etappe nach einer langen Flucht gewinnen konnte. Nach dem Start in Marseille durchquert die Etappe die Camargue, ein Sumpf- und Schwemmgebiet des Rhônedeltas. Die Feuchtgebiete der Camargue beherbergen eine 400 Arten reiche Vogelwelt, darunter Flamingos. Kein Wunder also, dass diese Region als "Florida Frankreichs" bekannt ist. Wind kann hier ein Faktor sein, in der Regel ist er jedoch nicht allzu stark.
Die Etappe endet in La Grande-Motte. Der Tourismusort ist für ein pyramidenförmiges Hotelpaar und 300 Sonnentage im Jahr berühmt. Die Tour de France besuchte La Grande-Motte das letzte Mal 1969. Der belgische Fahrer Guido Reybrouck, er fuhr für die Faema Mannschaft, gewann die Etappe. Sein Landsmann Eddy Merckx trug das Gelbe Trikot des Rennführenden.
Details zum Profil
Die ersten 100 Kilometer der Etappe geht es stets auf und ab. Danach ist es flach bis zum Ziel. Und nicht nur mehr oder minder flach. Sehr, sehr flach.
Die Etappe beginnt mit einem kurzen Anstieg und der sich anschließenden Abfahrt. Nach 19,5 Kilometern folgt ein weiterer kurzer Anstieg, der nicht kategorisiert ist. Wenn sich zu diesem Zeitpunkt noch keine Fluchtgruppe gebildet haben sollte, könnte diese Welle die Ausreißer auf die Spur bringen. Die nächsten zwanzig Kilometer fällt der Kurs langsam in Richtung des Zwischensprints in La Faire-les-Oliviers ab. Der Sprint liegt bei Kilometer 48,5 und bietet Punkte für das Grüne Trikot.
Der erste kategorisierte Anstieg des Tages, die Côte de Calissanne, steht nach 56 Kilometer auf dem Rennprogramm. Diese Côte ist mit 1,3 Kilometern bei einer Durchschnittssteigung von 5,5% kurz und eher steil. Ebenso schnell geht es wieder hinab, bevor sich 25 flache Kilometer und die Ortspassagen von Grans und Eyguières anschließen. Nach 90,5 Kilometern wird der zweite Zwischensprint in Mouriès ausgetragen. Ab Mouriès sind noch 106,5 Kilometer zu fahren.
Unmittelbar nach dem zweiten Zwischensprint folgt der zweite kategorisierte Anstieg des Tages, die Col de la Vayède. Die Bergwertung liegt bei 183 Metern über dem Meeresspiegel und folgt auf einen 0,7 Kilometer langen Anstieg. Die Col de la Vayède ist kurz aber steil mit durchschnittlich 7,4%. Nach zwei Kilometern flacht die steile Abfahrt ab.
Ab ungefähr 85 Kilometern vor dem Ziel wird der Kurs eben. Es folt ein Zwischensprint bei Kilometer 118,5 in Arles. Von hieran ist es eine lange flache Fahrt zum Ziel. Die Route liegt bei 20 Metern über Null, die Strecke passiert Villaneuve und Sylvéréal.
Die Zielankunft in La Grande-Motte befindet sich auf der Avenue Robert Fages. Es ist eine gerade und langgezogene Ankunft, frei von Kurven, die das Tempo der Sprinter bremsen könnten. Die flachen Kilometer vor dem Ziel und die Abwesenheit größerer Anstiege versprechen eine schnelle Sprintankunft.
Auf wen ist zu achten
Es ist ein Tag an dem die Sprinter glänzen können. Die Frage ist, ob jemand die Dominanz brechen kann, die Mark Cavendish in den Sprints dieser Saison bisher an den Tag legte. Zwar scheint er auf solch einer Etappe mit wenigen Anstiegen und einem flachen Zieleinlauf eine totsicherer Tipp, doch die Riege der Sprinter wird ihre besten Beine mit zu Tour gebracht haben und auf dem letzten Kilometern gibt es keine Geschenke. Daniele Bennati, Oscar Freire, Heinrich Haussler und Tyler Farrar sind die Herausforderer, die es in La Grande-Motte zu beobachten gilt. — translation by Jakob Frey