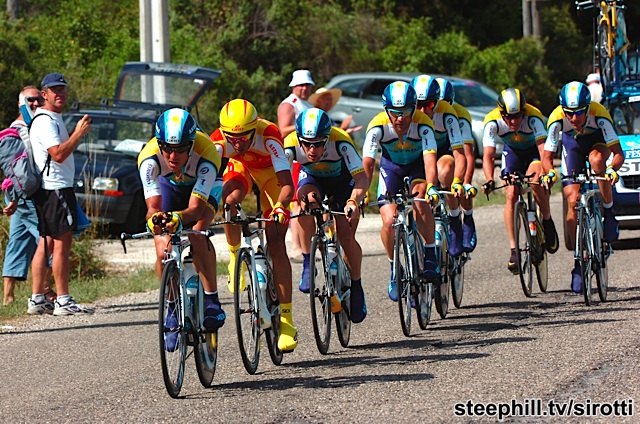 9 Big Photos from Stage 4 — sirotti


Stage 4 Results


1 Astana                   0:46:29
2 Garmin-Slipstream      +   00:18
3 Saxo-Bank              +   00:40
4 Liquigas               +   00:58
5 Columbia-HTC           +   00:59
General Classification after Stage 4:

Full Results: Team Astana asserts its dominance in TTT — cyclingnews

Full Results (click on "Stage Standing") — letour.fr

Photos — afp/yahoo

Last 6 Km of Astana's Ride (06:10 dutch) — nos

Saxo Bank Last 2 Km (02:27 dutch) — nos

Denis Menchov's crash (00:49 dutch) — nos

BBox Bouygues Telecom crashes into a field (01:45 polish) — eurosport

Astana haalt hamer boven in de ploegentijdrit — sporza.be

Silence-Lotto's Van den Broeck careless crash (02:34 Flemish) — sporza

Cancellara keeps the jersey by a fraction of a second over Armstrong — velonews

Astana on top but Armstrong misses yellow by 100's of a second — cyclingweekly.co.uk

Graham Watson Stage 4 Photos
— grahamwatson

Stage 4 Highlights Part 1 (01:41) — eurosport

Stage 4 Highlights Part 2 (02:12) — eurosport

Lance Armstrong Post Stage Interview (01:41) — eurosport

BBox riding through a field on their TT bikes (01:49) — eurosport

Stage 4 Recap (03:17) — versus

Stage 4 Recap/Highlights (03:12) — letour.fr/aso

Armstrong admits attaining yellow jersey, overall victory harder than expected: "apologizes" for disrespecting Sastre & Vande Velde — cyclingnews

Menchov unsatisfied after team time trial — cyclingnews

Riders unhappy with Tour's TTT course — cyclingnews

Stage 4 Highlights, Interviews, Analysis (multiple clips) — versus

ITV stage 4 podcast with Matt Rendell, Ned Boulting and Chris Boardman — ITV

Armstrong Moves Into Second Place — nytimes

Why Contador's chances rose when Armstrong missed yellow — cyclingweekly.co.uk

9 Big Photos from Stage 4 — sirotti

A well edited montage of video highlights set to music (02:14) — eurosport

Post Stage Analysis
Astana Wins the Stage, but not the Shirt
Cancellara keeps the Yellow Jersey after near-miss by Armstrong
Team Astana won today's team time trial raced on technical roads around Montpellier. The team led by Alberto Contador and Lance Armstrong finished 18 seconds ahead of the crono specialists at Garmin-Slipstream and 40 seconds ahead of the Saxo Bank team of race leader Fabian Cancellara. The race lead came down to fractions of a second, today, as Cancellara and Armstrong finished the stage tied on time. On the count-back, Cancellara came out ahead, and rides another day as the leader of the general classification.
The Story
Today's team time trial resembled Mr. Toad's Wild Ride as teams tried to maneuver through the windy, technical course in Montpellier. Stéphane Goubert of AG2R-La Mondiale compared the team time trial to driving a big truck with limited maneuverability. Certainly, many teams would not have passed their driving tests today. Bbox-Bouygues Telecom suffered one of the more spectacular mishaps which sent four of their riders off the road and into a field. The general classification riders were not immune, and Denis Menchov of Rabobank crashed in a tight right-hand bend. The Russian finished the stage, but dropped precipitously down the standings.
Caisse d'Épargne set an early fast time, which stood until late in the day. Liquigas-Doimo, who frequently ride well in the team time trial, soon surpassed them. But the big battle of the day was among Saxo Bank, Astana, and Garmin-Slipstream. Garmin-Slipstream shed riders early in the stage, but the remaining five soon passed the best time then held by Liquigas-Doimo. Bradley Wiggins, David Zabriskie, David Millar, and Christian Vandevelde powered through the course, with Ryder Hesjdahl hanging on for dear life. Hesjdahl took his turns in the early kilometers, but by the end, could not match the tempo of his four team-mates, all specialists against the watch. It was a big ride from Garmin-Slipstream, and it looked for a time as if they might take out the stage win.
But out on course, Team Astana, also stacked with time trial specialists, was steadily knocking down the time standards set by Garmin-Slipstream. With their lead in the teams classification, Astana departed last and had the advantage of knowing the other teams' times. The team of Alberto Contador and Lance Armstrong were chasing not only the stage win, but also the Yellow Jersey of the race leader for Armstrong. At the second time check, Armstrong was the race leader on the road by just one second.
Saxo Bank, meanwhile, was nearing the finish. Determined to defend the Yellow Jersey, Cancellara measured his efforts in the early going, so as not to leave any of his team-mates behind. His otherworldly bike handling nearly led Andy Schleck astray, as the big Swiss took the Cancellara Line through a turn, leaving only centimeters of road to spare. Schleck recovered quickly, and Saxo kept all nine of their riders until the final kilometers. In the straight, flat, finale of the stage, Cancellara did the majority of the work, including a kilometer straight on the front of the team. Saxo Bank finished 22 seconds behind Garmin-Slipstream, and the wait began for Astana to finish.
At the line, Astana finished 21 seconds up on Garmin-Slipstream to take the stage win. Alberto Contador crossed the line first for the team, while Armstrong took the all-important fifth position. The time for the team is taken when the fifth rider crossed the line. The clock showed a 40 second gap from Astana to Saxo Bank, which put Armstrong and Cancellara equal on time for the general classification. From the might-have-been file, had Bradley Wiggins made the Columbia-created split during yesterday's stage to La Grande-Motte, he would have taken the Yellow Jersey today.
In a rare coincidence, Lance Armstrong and Fabian Cancellara were now tied in the general classification. Head-scratching ensued as the officials did a count-back to determine the race leader. According to the Tour's rules, in the event of a tie in the general classification, the fractional seconds achieved by each rider in his individual time trial will be added to the calculation of the general classification.
In the case of this Tour, the officials returned to the stage 1 time trial in Monaco. Fabian Cancellara recorded a time of 19:32.14, while Lance Armstrong finished in 20:12:36. To calculate the time gap, the officials subtracted 14 from 36. The official time gap between Cancellara and Armstrong is now 0.22 seconds. Surely, this is one of the smallest gaps in the Yellow Jersey race ever.
After the race, Cancellara joked that he credited "the precision of Swiss timing" for his defense of the jersey. He credited his team with working hard to prepare for the time trial. "It was not a very beautiful parcours for a team time trial, but we fight as much as we can," he said in English after the stage. Cancellara compared his team's performance in the final kilometers to the Tour lion. My team "gave everything. They were the lion." "Any kilometer of this race, you can not make mistakes. I tired to give everything out to defend this jersey. This is the Yellow Jersey," Cancellara explained. By defending the race lead successfully, Fabian Cancellara will celebrate his 13th day in Yellow in his career, which surpasses the previous Swiss record held by Ferdi Kübler. "I am proud to have another day in Yellow," he concluded. Cancellara also hinted that his Saxo Bank team may not defend the race lead tomorrow, commented that it depended on the sprinters' teams.
In his post-race comments to the press, Armstrong claimed that he was not disappointed to miss the Yellow Jersey, though the expression on his face suggested that he was playing a bit of poker with that comment. He called the team's performance perfect, and said he had no regrets. The American also discussed his return to racing and admitted that it was "more difficult than I expected." "I said to myself: Shit, this is more difficult than expected," he told the press. "Today I have both feet on the ground. I know that I will not be last. But it will not be as easy as 2005, 2004, or 2000," he said. Addressing the question of team leadership, he said that there are two ways to determine who leads a team. It is either the "rider who is the strongest, who can win" or "the rider who had the experience, age, and confidence." Armstrong concluded that the second could be his role. This is not the first time that the American has suggested that his team mate Alberto Contador, who has won all three of cycling's grand tours, lacks experience and is in need of guidance. For his part, Contador expressed satisfaction with the stage. "We have distanced many rivals," he said, but offered no comment on the leadership situation.
General Classification Update
Fabian Cancellara Saxo Bank
Lance Armstrong Astana 00.00 (actually .22 seconds down)
Alberto Contador Astana :19
Andreas Klöden Astana :23
Levi Leipheimer Astana :31
Bradley Wiggins Garmin-Slipstream :38
Haimar Zubeldia Astana :51
Tony Martin Columbia-HTC :52
David Zabriskie Garmin-Slipstream 1:06
David Millar Garmin-Slipstream 1:07

Though the top ten shows the dominance of Astana clearly, it only tells part of the story. How did the other team leaders fare? The race organizers kept this stage short in the effort to minimize the time gaps, but the results suggest that they miscalculated quite badly. Certainly, some teams will need to rethink their tactics after today's events.
Christian Vandevelde, whose Garmin-Slipstream very nearly won this stage, sits 1:06 down on Armstrong. His team-mate Bradley Wiggins is 38 seconds down, but Wiggins has not traditionally thrived in the high mountains. Roman Kreuziger and Vincenzo Nibali also had a good day out, thanks to their strong Liquigas-Doimo team. Kreuziger sits 15th at 1:31, while Nibali is 19th at 1:36. Their team-mate Franco Pellizotti, who placed third in the Giro d'Italia, improved his position with today's stage and sits 2:25 down in the general classification. Michael Rogers, meanwhile, whose Columbia-HTC team did a strong, but not exceptional ride, sits 16th at 1:32. Rogers is better against the watch than in the mountains, so may prove unable to advance too much further in the general classification. The next crono does not come until the final week of the race.
The defense of Fabian Cancellara's Yellow Jersey helped Andy Schleck remain well-positioned for the general classification battle. The younger Schleck brother is currently 1:41 down, and is no doubt dreaming of the mountains. Fränk Schleck, who will also enjoy the mountains, is at 2:17.
Also looking forward to the mountains stages is Carlos Sastre of Cervélo TestTeam. Sastre, who won last year's Tour de France on the final climb to Alpe d'Huez, now sits 2:44 down in the general classification. After the stage, Sastre called the team time trial "very technical" and "very difficult," especially because of the strong winds. The classy Spanish climber called his team's effort "very positive," especially in relation to the stronger and more experienced teams at Astana, Saxo Bank, and Garmin. The good news for Sastre is that the worst is now behind him. Though he still faces the final crono in Annecy during the third week, he has a number of hard mountain stages ahead. A good day on Mont Ventoux could erase his current deficit.
Cadel Evans of Silence-Lotto, meanwhile, will be considerably less optimistic after today. It was a rough day for the team, including a crash by climber Jurgen van den Broeck when he crossed wheels with a team-mate in the wind. Greg van Avermaet narrowly missed running over his van den Broeck, an impressive feat in the close quarters of a team time trial. Then Johan Vansummeren suffered a flat, which further broke the team's rhythm. Evans has no choice but to attack now. The Australian, who has twice placed second in the Tour de France, sits 2:59 down in the general classification. Evans has often raced well from the back, when relieved of the pressure of expectations. Never one to give up, he'll race now for every inch of road. Interviewed after the stage, the Silence Lotto sports director confirmed that the team would pursue "another tactic from now on."
Rabobank also suffered a rough day at the races. Team leader Denis Menchov, who won the Giro d'Italia, crashed in the first corner. The Russian has not had a great start to the Tour this year, and drops further down the general classification today. Menchov, who had a less than stellar opening time trial in Monaco, now sits 3:52 down in the general classification. His team-mate, Dutch climber Robert Gesink, meanwhile, is at 3:36. Gesink will no doubt go stage-chasing when the Tour hits the mountains. If he rides well in the mountains, a top ten finish is still not out of reach for the young climber, who rides his first Tour this year.
Linus Gerdemann of Milram, who moved up in the standings yesterday, falls back down today. Niki Terpstra and Peter Wrolich both crashed during the stage. Gerdemann is now at 3:11 in the general classification.
Other General Classification riders: Kim Kirchen of Columbia-HTC @ 2:16, Vladimir Karpets of Katusha @ 2:31, Oscar Pereiro Sio of Caisse d'Épargne @ 3:03, Luis León Sánchez Gil of Caisse d'Épargne @ 3:18, Igor Anton Hernandez Euskaltel-Euskadi @ 3:48.
Other classifications: In the points classification, Mark Cavendish of Columbia-HTC remains in the lead with 70 points. Thor Hushovd of Cervélo TestTeam is second with 54, while Samuel Dumoulin of Cofidis sits third with 36. Jussi Veikkanen of Français des Jeux continues to lead the mountains classification ahead of Tony Martin of Columbia-HTC. Martin, meanwhile, wears the White Jersey of best young rider. Martin leads the two young riders from Liquigas-Doimo, Roman Kreuziger and Vincenzo Nibali. After their stage win today, Astana retain their lead in the teams classification.
Looking Ahead
Tomorrow's stage between Cap d'Agde and Perpignan should be a day for the sprinters. Because the course follows the coast, there is again the possibility of winds, so the general classification riders will need to pay close attention to their positioning in the bunch. Two fourth category climbs enliven the proceedings about midway through the stage, but neither should cause any great distress in the field. The finish in Perpignan is technical, with several corners in the run-in. — Gavia
For more about tomorrow's stage, please turn the page.
---
This stage preview is available in the following languages:

(We are looking for translations in ALL other languages. Please submit your translation with the stage no. and language in the subject title.)

Course Preview
Etappenvorschau
Auf der vierten Etappe der diesjährigen Tour de France kehrt das Mannschaftszeitfahren in das Programm zurück. Die Teams haben auf einem überwiegend flachen Kurs 39 Kilometer rund um Montpellier zu bewältigen. In der Tat ist der Kurs so flach, dass auf der Etappe keine Bergpreispunkte vergeben werden. Drei Zwischenzeiten nach 9, 19,5 und 30,7 Kilometern ermöglichen es den Fans - und den Begleitfahrzeugen - die Abstände der Teams zu messen.
Die Etappenwertung verwendet die realen Ankunftszeiten. Eine Deckelung der Zeiten, wie sie früher teils erfolgte, wird es nicht geben. Die Zeit am Zielstrich entscheidet über den Tageserfolg und die Gesamtwertung. Sie wird mit dem fünften Fahrer eines Teams genommen.
Montpellier liegt unweit der Mittelmeerküste, so dass die erste Tourwoche des Jahres dem Thema See verbunden bleibt. Der Etappenstart findet in der Stadtmitte am Jardin des Plants statt. Die Gartenanlage entstand bereits 1593 und ist somit die älteste in Frankreich. Von hier aus geht es für die Fahrer auf einen u-förmigen Kurs, der sie über die Vororte der Stadt zurück ins Zentrum zum Ziel am Croix de Argent führt. Für die Etappe kann mit gutem Wetter gerechnet werden, verfügt Montpellier doch über das typisch warme und mediterrane Klima der Region. Die Tour de France war 2007 das letzte Mal in Montpellier. Die 12. Etappe, die Tom Boonen im Sprint für sich entscheiden konnte, wurde hier gestartet.
Details zum Profil
Das Terrain weißt keine Schwierigkeiten auf, ist jedoch alles andere als einfach. Der Kurs steigt leicht stufig bis zur ersten Zwischenwertung, auf neun Kilometern werden 53 Höhenmeter überwunden. Von hier an geht es schrittweise weiter, bis der höchste Punkt der Etappe bei 143 Metern über Null in Murviel-lès-Montpellier erreicht wird. Die zweite Zwischenzeit wird nach 19,5 Kilometern, kurz nach der Häfte des Zeitfahrens erreicht.
Von der Zeitnahme in Murviel-lès-Montpellier verliert der Kurs 82 Höhenmeter auf den nächsten sieben Kilometern, ein gerade noch wahrnehmbares Gefälle. Von der letzten Zwischenzeit in Pignan aus sind es keine neun Kilometer mehr. Der Kurs ist nun flach und passiert Lavérune sieben Kilometern vor dem Ziel. Auf den letzten drei Kilometern geht es über einen Kreisverkehr zurück zur Ankunft auf der Avenue de Vanières in Montpellier.
Fahrerzitate:
Lance Armstrong: Fuhr gerade den Kurs für´s Mannschaftszeitfahren in Montpellier. Unglaublich technisch. Warf all unsere Vorhersagen für´s Mannschaftszeitfahren über den Haufen. Hier läuft es anders...
Levi Leipheimer: Wir fuhren gerade den Kurs für´s Mannschaftszeitfahren, eine Achterbahn. Eng, kurvig und raue Straßen! Ihr werdet´s in einer Woche seh´n.
Auf wen ist zu achten
Der Teammanager von Garmin-Slipstream, Jonathan Vaughters, hat seiner Liebe für das Mannschaftszeitfahren wiederholt Ausdruck verliehen. Gründe hierfür sind die technischen Aspekte der Disziplin, in der die gesamte Mannschaft zusammen für den Erfolg arbeiten muss. Das Team Garmin-Slipstream verlor das eröffnende Mannschaftszeitfahren des Giro in Venedig gegen Columbia-High Road, nachdem die Teams im Vorfeld eine Reihe von Nicklichkeiten ausgetauscht hatten. Keine Frage, dass Vaughters auf Rache für die Niederlage in Italien sinnt, die in der Tour de France am süßesten wäre. Garmin-Slipstream hat einige Spezialisten für den Kampf gegen die Uhr, darunter den olympischen Verfolgungsweltmeister Bradley Wiggins, David Millar, den amerikanischen Zeitfahrmeister David Zabriskie, Christian Vandevelde und Ryder Hesjedal. Vandevelde mag noch nicht wieder in Topform sein, aber seine Teamgefährten sind der Herausforderung der Etappe mehr als gewachsen.
Größter Herausforderer wird erneut das Tema von Columbia-High Road sein, Die Mannschaft wird in der ersten Woche gute Beine brauchen, um die Ambitionen von Mark Cavendish auf den Flachetappen zu unterstützen. Michael Rogers, der ehemalige Zeitfahrweltmeister, Thomas Lövkvist, Mark Cavendish und Mark Renshaw, der Anfahrer für Cavendish bringen Siegeserfahrung aus Italien mit. Für die Tour kommen noch der erfahrene George Hincapie und Kim Kirchen hinzu, der die Frankreichrundfahrt zweimal unter den besten zehn abschließen konnte. Columbia-High Road hat während der letzten zwei Saisons die ersten Wochen der großen Landesrundfahrten mit zahlreichen frühen Siegen bestimmt. Bei der Kombination von Sprint- und Zeitfahretappen der diesjährigen Tour de France wird sich dieses Muster wohl fortsetzen.
Bei Saxo Bank fahren die Gold- und Silbermedaillengewinner der letztjährigen Olympischen Spiele, Fabian Cancellara und Gustav Larsson. Jens Voigt, Nicki Sørensen, der Capitaine de la Route Stuart O'Grady und Kurt-Asle Arvesen sind erfahrene und starke Fahrer fürs Mannschaftszeitfahren. Einem Etappensieg von Saxo Bank könnten jedoch ihre Bergfahrer Chris Anker Sørensen, Andy Schleck und Fränk Schleck entgegenstehen. Sicherlich wird das Team die Fahrer Andy und Fränk Schleck und deren Ambitionen in der Gesamtwertung nicht aufs Spiel setzen. Mit diesen Fahrern sollte man Saxo Bank keinesfalls unterschätzen, auch wenn ihre größeren Ziele einen Etappensieg hier vielleicht verhindern.
Astana hat mit Lance Armstrong, Levi Leipheimer und Andreas Klöden drei hervorragende Zeitfahrer. Alberto Contador, obschon kein ausgewiesener Spezialist im Kampf gegen die Uhr, hat diese Saison gute Resultate erzielt und kann sich bei hohem Tempo behaupten. Für das Team geht es sowohl um den Tageserfolg als auch um die Gesamtwertung, so dass mit einer schnellen Zeit zu rechnen ist. Astana und Garmin-Slipstream sind zusammen mit Columbia-High Road und Saxo Bank die Favoriten für diese Etappe, bei der mit einer engen Entscheidung zu rechnen ist.
Die anderen Teams mit Ambitionen in der Gesamtwertung wie Silence-Lotto, Rabobank und das Cervélo TestTeam sind bei dieser Etappe gefordert und jedes wird im Juli mit ein paar starken Rouleuren aufwarten. Alles im allem sollten sich durch die kurze Distanz der Etappe keine allzu großen Zeitabstände auftun. Das Mannschaftszeitfahren wird das Gesamtklassement nicht entscheiden, kann aber einem Fahrer mit einer starken Mannschaft in der Rückhand wie Alberto Contador oder Andy Schleck zu einem motivierenden Vorteil verhelfen, bevor die Tour in die Pyrenäen führt. — translated by Jakob Frey