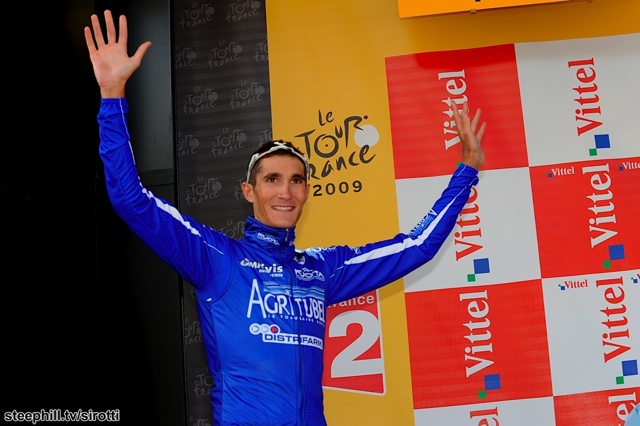 15 Big Photos from Stage 7 — sirotti and colin flockton

Stage 7 Results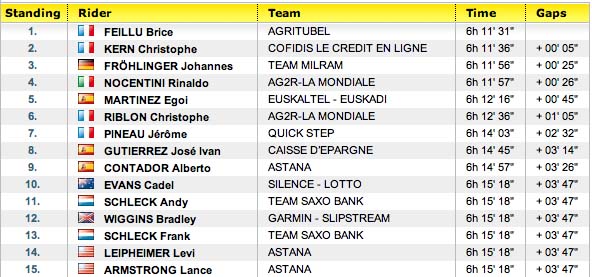 General Classification after Stage 7:


Full Results (click on "Stage Standing") — letour.fr

Feillu wins first mountainous stage — cyclingnews

Last Kms (04:46 dutch) — nos

high-res victory salute

Contador asserts dominance as Feillu takes stage and Nocentini snatches jersey — velonews

Toppers roeren zich amper in eerste bergrit — sporza.be

Feillu wins, Contador leapfrogs Armstrong — eurosport

Stage 7 Highlights Part 1 (01:40) — eurosport

Stage 7 Highlights Part 2 (02:15) — eurosport

Bruyneel: "We didn't have a real plan" (02:09) — eurosport

Armstrong: "I didn't expect him [Contador] to go by the plan ... no surpise" — velonews

Levi Leipheimer post-race — velonews

ITV stage 7 podcast with Matt Rendell, Ned Boulting and Chris Boardman — ITV

Graham Watson Stage 7 Photos — grahamwatson

Pre Race Interviews: Lance, Levi and Johan — versus

Tour, Nocentini in giallo "Il premio più bello" — gazzetta.it

Armstrong unfazed by Contador charge — tdf.sbs.au

15 Big Photos from Stage 7 — sirotti and colin flockton

Stage 7 Recap/Highlights (03:12) — letour.fr/aso

A well edited montage of video highlights set to music (04:07) — eurosport

Stage 7 Rider and Team Reactions — dailypeloton

Post Stage Analysis
Living A Dream
First year pro Brice Feillu wins stage, Nocentini in Yellow
Brice Feillu of Agritubel took his first ever Tour de France stage win high on the summit of Arcalís. The young French rider, in his first year as a professional, escaped with the early breakaway and survived to celebrate victory at the finish. Rinaldo Nocentini of AG2R-La Mondiale, who also rode the break today, takes over the Yellow Jersey of race leader by a slim margin over Alberto Contador. The Spanish climber leapfrogged his team mate Lance Armstrong in the general classification and is now 2 seconds ahead of the American.
The Story
Three riders escaped at kilometer 8 and were soon joined by six more. By kilometer 20, the break included: Rinaldo Nocentini AG2R-La Mondiale, Jérôme Pineau Quick Step, José Ivan Gutierrez of Caisse d'Épargne, Alexandr Kuschynski of Liquigas-Doimo, Christophe Riblon AG2R-La Mondiale, Egoi Martinez Euskaltel-Euskadi, Johannes Fröhlinger Milram, Brice Feillu Agritubel, and Christophe Kern Cofidis. Rinaldo Nocentini began the day as the highest placed on the general classification at 3:13 behind Fabian Cancellara.
The main field proved content to let the break ride and with 65 kilometers to race, the break held an advantage of 11:29 over the main field. With Saxo Bank disinclined to defend Cancellara's Yellow Jersey, Astana took control of the chase. In the break, Christophe Riblon took the points over the Port del Solsona and the Port del Comte. Gapped on the Porte del Comte, Cancellara put his mad descending skills on display and came back to the main field.
As the kilometers ticked down to the final climb of the day, the gap the breakaway fell as Astana rode on the front. The team did not seem to put a great deal of urgency into the chase, and the other teams proved content to sit on and let Astana determine the pace. Astana began the day with four riders in the top five, and the other teams saw no reason to assist in the chasing. For much of the stage, the team of Contador and Armstrong appeared to be in no particular hurry. With 25 kilometers to go, the gap to the break still stood at nearly ten minutes. Rinaldo Nocentini had become the race leader on the road, the virtual Yellow Jersey, and the stage winner looked likely to come from the breakaway.
As the bunch passed through Andorre-la-Veille, Astana began to step up the pace. All lined up on the front, the team bore a striking resemblance to the Blue Train of Armstrong's seven year reign over the Tour. As Astana turned the screws, the gap to the break began to fall and many riders in the main field found the pace too hot for their liking. Garmin-Slipstream, Saxo Bank, and Liquigas-Doimo all sat near the front for their team captains, and the general classification favorites sat close to the tail of the Astana train.
With 23 kilometers to go, a random crash interrupted the proceedings. Mark Cavendish, Michael Rogers, and Levi Leipheimer were among the riders who smacked planet, but all three proved able to continue. Astana momentarily soft-pedaled on the front to allow Leipheimer to make his way back through the field with the help of Gregory Rast. The road rose steadily here in a slight, but leg-sapping gradient. With 15 kilometers to race, the gap to the break, who still rode together, stood at 7:44. The officials waived the rule banning feeds from the team cars inside 20 kilometers to go in light of the hot weather, and Brice Feillu dropped back for a bottle as the break neared the final climb.
As the break hit the early kilometers of the climb, Kuschynski found the steep gradients too much for his legs and dropped off. The climb to Arcalís starts out steeply with the opening kilometers hitting a gradient of 8%. Back in the main field, Haimar Zubeldia took over the pace-making for Astana, and gaps began to open in the ever-shrinking Yellow Jersey group.
With 6 kilometers to go, race leader Fabian Cancellara joined the casualties and slipped off the back. A team-mate dropped back to help him, and as Cancellara predicted at the end of yesterday's stage, his time in Yellow had come to an end. The gap to the break, meanwhile, was dropping rapidly thanks to the hard work by Zubeldia, and with 6 kilometers to go, it stood at 5:25.
Up ahead, the riders in the breakaway began to play for the stage win. The first move came from Christophe Kern, but Brice Feillu proved quick to cover. Rinaldo Nocentini, still the virtual Yellow Jersey, made the next move from the break, and lingered up the road briefly. Sensing a rare chance for a stage win, the breakaway riders were not about to give this one away easily. With just over 5 kilometers to race, Brice Feillu took his chance from the break. The others could not follow, and soon the first year professional from Agritubel had opened up a solid gap over the remains of the breakaway. Within 3 kilometers, the young French rider had counted an advantage of 30 seconds over the chase.
Behind in the main field, Zubeldia continued to drive the pace for Astana, as more riders dropped off the back. It seemed that none of the favorites wanted to - or could - challenge the display of force from Astana, who still had four general classification riders in the front group. The high pace rendered attacks nearly impossible, while a stiff headwind offered an added disincentive.
Cadel Evans proved unintimidated by the Astana train, and the stubborn Australian attacked hard. There remained 4 kilometers to race, and for a time, the Silence-Lotto captain held a small gap. With Evans off the front, the group of favorites numbered around 15 riders. Inexorably, the gap to Evans shrank. Up ahead, Nocentini and Riblon continued to trade pulls in an effort to secure the Yellow Jersey for the Italian, while Brice Feillu rode toward his first ever stage win.
The favorites soon came back together. After a brief pause in the hostilities, Jurgen van den Broeck, team-mate to Evans at Silence-Lotto, put in a dig and gained a small gap. It proved short-lived. With one of his trademark accelerations, Alberto Contador bounded out of the group. The 2007 Tour winner has springs for legs, and few riders can match his acceleration. Andy Schleck tried to cover the Contador move, but could not make it across the gap to the flying Spanish rider. The French call a pedaling style like Contador's en danseuse, summoning up the image of a light-footed dancer. And dance Contador did, out of the reach of the remaining race favorites.
Up ahead, Brice Feillu of Agritubel crossed the line alone and celebrated his first ever Tour de France victory. The young French rider has raced 54 days so far this season, in his first year as a professional. Number 55 proved to be his lucky day. The younger brother of sprinter Romain Feillu, Brice said after the stage that he loves the mountains. "It was a beautiful stage, and the greatest win of my career," he said. "I love the climbs, I just tried to increase the pace through every corner," he explained. Agritubel has decided to stop its sponsorship of the team at the end of this season. When asked what he imagines for the future, Feillu said he needs to find a new team and he hopes that this win will help. It's hard to imagine how it would not. Christophe Kern of Cofidis finished just 5 seconds behind Feillu. In the gruppetto, meanwhile, Romain Feillu celebrated his brother's victory.
Behind Feillu and Kern, Nocentini put in a desperate last effort to secure the race lead. The Italian from AG2R-La Mondiale finished 26 seconds behind Feillu. Then began the wait for the race favorites to reach the line. Thanks to his attack, Contador proved the first of the general classification favorites to finish. The Spanish rider finished 3:26 down on Feillu, missing the Yellow Jersey by 6 seconds. Contador's Astana team-mate Lance Armstrong, who started the day ahead on time, finished the stage 3:47 down on the stage. Armstrong now sits third in the general classification at 8 seconds.
Rinaldo Nocentini will wear the Yellow Jersey tomorrow, a prize which he dedicated to his mom and sister. The Italian was surprised to take the jersey saying, "Contador was coming up fast, and I didn't think I would get the jersey. It's a beautiful thing, even for just one day." The AG2R-La Mondiale rider is the first Italian to wear the Yellow Jersey since Alberto Elli in 2000. Nocentini also said that he still hopes to win a stage of this Tour de France. The Italian all-arounder is a familiar face in the breakaways, and may well someday get his wish. Vincent Lavenu, Nocentini's team manager, called Nocentini as "super rider" and praised his enthusiasm. "For a long time, he has wanted to come to the Tour, but the space for foreign riders in a French team is limited. He has been patient," explained Lavenu. "He will win again!"
General Classification Update
Here is the current top ten:
Rinaldo Nocentini AG2R-La Mondiale
Alberto Contador Astana :06
Lance Armstrong Astana :08
Levi Leipheimer Astana :39
Bradley Wiggins Garmin-Slipstream :46
Andreas Klöden Astana :54
Tony Martin Columbia-HTC 1:00
Christian Vandevelde Garmin-Slipstream 1:24
Andy Schleck Saxo Bank 1:49
Vincenzo Nibali Liquigas-Doimo 1:54
As expected the general classification reshuffled on this first mountain stage of this year's Tour de France. The time gaps still remain close, though, despite Contador's big show of force in the final kilometers. Nocentini leads the general classification, followed by Contador at 6 seconds and Lance Armstrong at 8 seconds. Astana still has four riders in the top ten with Levi Leipheimer in fourth at 39 seconds and Andreas Klöden in sixth at 54 seconds. Carlos Sastre noted the strength of Astana, saying after the stage, "Astana is really strong and controlled the race without problem." For his own part, Sastre said he had a good ride on the climb. "I did not lose time to the other favorites, that is the most important part."
The attack of Contador in the finale reopened the speculation about the team leadership at Astana. Was Contador's move planned? It's impossible to know for sure. Johann Bruyneel said after the stage, "We wanted to ride a sustained rhythm to prevent attacks from Andy Schleck, Cadel Evans, and Carlos Sastre." No doubt they also hoped to distance Fabian Cancellara, who started the day in the Yellow Jersey of the race leader. In these first two goals, they certainly succeeded. Cadel Evans attempted an attack, but could not resist the implacable pace of the Astana team. Evans said later, "The numbers at Astana and the wind prevented me from making a difference."
For his part, Armstrong, who began the day second in the general classification on same time with Cancellara, would surely like to have worn Yellow at the end of today's stage. "Not everything went according to our plan, but I am not really surprised by that," Armstrong, whose face told the tale of his efforts on the climb, told the assembled journalists. Was it Nocentini's success in staying away that didn't go according to plan? Or, was it the cheeky escape by his Spanish team-mate Contador? It's impossible to know for sure, but certainly the stage re-injected life into the speculation about the relationship between Armstrong and Contador and the tactics the team will follow over the next two weeks. Still, the road will likely decide the matter, and it would be easy to make too much of this bit of hijinx. Astana has established itself as the team to beat at this Tour de France, and the other favorites will have to think hard about how to break the team's hold on the race.
The surprise package of the day in the general classification is surely Bradley Wiggins of Garmin-Slipstream who now sits fifth overall. Wiggins, a former pursuiter on the track, did an impressive ride to finish in the Armstrong group on today's stage. Having abandoned the track after two Olympic gold medals, Wiggins has lost weight and turned his focus entirely to the road. So far, he is turning out the best general classification ride of his career to date. He has struggled with repeated mountain stages in the past, so it remains to be seen how well he can hold on to his current position. Still, an impressive day out for the British rider from Garmin-Slipstream. Christian Vandevelde, meanwhile, sits eighth at 1:54 and also finished in the group of favorites today. The American suffered a serious crash during the Giro d'Italia, but is steadily riding himself into good form at this Tour.
Looking further down the general classification, Tony Martin sits seventh and wears the White jersey of best young rider. Andy Schleck, meanwhile, is ninth at 1:49 and Vincenzo Nibali is tenth at 1:54.
Other General Classification riders: 13) Fränk Schleck of Saxo Bank @ 2:25, 14) Roman Kreuziger of Liquigas-Doimo, who had a rough day on the climb today, @ 2:40 15) Carlos Sastre of Cervélo TestTeam @ 2:52, 17) Franco Pellizotti of Liquigas-Doimo @ 3:03, 18) Cadel Evans of Silence-Lotto @ 3:07, 23) Vladimir Karpets of Katusha @ 3:49, 24) Denis Menchov of Rabobank @ 5:02.
Other Classifications: With his stage win today, Brice Feillu takes over as leader of the mountains classification. He leads Christophe Riblon of AG2R-La Mondiale by 3 points. Tony Martin, meanwhile, keeps his lead in the Young Riders classification. Martin is 49 seconds ahead of Andy Schleck and 54 seconds ahead of Vincenzo Nibali. Nibali's team-mate Roman Kreuziger had a rough day on the Arcalís climb and drops to fourth at 1:40. The standings in the Points classification remain unchanged today with Mark Cavendish still leading Thor Hushovd by one point. Gerald Ciolek is third. Astana leads the teams classification by 1:48 over AG2R-La Mondiale, who had two riders in today's break. Columbia-HTC is third at 4:42. Christophe Riblon will wear the red numbers of most combative rider tomorrow.
Looking Ahead
It's another mountain stage tomorrow, as the Tour passes over the Pyrénées and returns to France. The climbing begins immediately as the start is at the base of the Port d'Envalira, the first of three categorized climbs on the menu. The final climb, the Col d'Agnès, summits just over 45 kilometers from the finish, so it probably won't prove decisive in the general classification battle. With Nocentini hanging on by just a few seconds over Contador, he will need a good ride tomorrow to stay in Yellow, but the long flat run-in should help his cause. Tomorrow's stage winner will likely come from a break, though stranger things have happened at the Tour de France.
For more details on tomorrow's stage, please turn the page.
---
This stage preview is available in the following languages:

(We are looking for translations in ALL other languages. Please submit your translation with the stage no. and language in the subject title.)

Course Preview
Previa Etapa 7: Barcelona-Andorra Arcalís
Cotas
Cota de Montserrat 4.1 km, pend. media 3.8 %, categoría 4
Port de Solsona 5.8 km, pend. media. 4.3 %, categoría 3
Col de Serra-Seca 7.7 km, pend. media 7.1 %, categoría 1
Port del Comte 3.1 km, pend. media 5.3 %, categoría 3
Andorra Arcalís 10.6 km, pend. media 7.1 %, categoría HC
Continúa el paso del Tour por España con la primera llegada en alto de la carrera. La etapa 7 parte de la ciudad de Barcelona y se dirige hacia los Pirineos, para en su último tramo dejar España y adentrarnos en el Principado de Andorra. Con un final en la estación de esquí de Arcalís, la carrera presenta cinco subidas puntuables, si bien tres de ellas son poco importantes. La ascensión final a Arcalís, puntuada como de categoría especial, debería empezar a indicarnos qué corredores han traído piernas para escalar en este Tour de Francia. 
La última vez que el Tour estuvo en Arcalís fue en 1997, donde sirvió de final de la etapa 10. Aquel año, un Jan Ullrich de 23 años que corría para el Deutsche Telekom atacó a 10 km para meta y se llevó la etapa por delante de Marco Pantani, del Mercatone Uno, y Richard Virenque, del Festina, ambos a 1:08 del alemán. El líder del equipo de Ullrich, Bjarne Riis, que ganó el Tour de 1996 -y le fue retirado tras admitir haberse dopado-, acabó con más de 3 minutos de retraso. Ullrich se vistió con el maillot de líder en Arcalís, y ya no lo soltaría hasta su primera (y última) victoria en el Tour de Francia.
Ya en tiempos más recientes, en 2001 la Vuelta a España colocó una cronoescalada desde Ordino hasta Arcalís, cubriendo una distancia total de 17 kilómetros. El ganador de la pasada edición del Tour, Carlos Sastre, acabó segundo aquel día, 28 segundos por detrás de su fallecido cuñado Jose María Jiménez. Levi Leipheimer también corría aquel día, resultando 5º en la etapa y 3º en la general final, lo que supuso su primer gran resultado en vueltas de tres semanas.
Detalles del perfil
La etapa 7 comienza en Barcelona en un terreno nada cómodo, con subida y descenso de salida. Posteriormente hay diez kilómetros de ascenso gradual hasta la primera cota puntuable del día, la cota de Montserrat. Situada a los 32 km de marcha, a las afueras de la ciudad de Terrasa. Terrasa es la cuarta ciudad más poblada de Cataluña y sus orígenes se remontan a la época romana. La mencionada cota de Montserrat es de 4ª categoría y tiene 4,1 km de longitud y una pendiente media del 3,8%, un buen calentamiento para lo que está por venir. Sin duda algún valiente fugado se alegrará de hacerse con los puntos que dan en la cima. 
Saliendo de Terrasa, los corredores toman dirección noroeste hacia Cardona pasando por Manresa. Este terreno es un falso llano bastante irregular con una duración de unos 50 kilómetros. Tras pasar Cardona (km 90) encontramos una serie de tres puertos puntuables ya situados en la provincia de Lérida.
El Port de Solsona, la segunda subida puntuable de esta etapa, se encuentra en las inmediaciones de Solsona, y tiene 5,8 km y una pendiente del 4,3%. Tiene categoría 3, y comparándolo con lo que resta por venir no debería suponer una dificultad muy grande. Desde su cima aún quedarán 127 kilómetros de etapa. Tras el descenso del puerto encontramos el primer sprint bonificado (km 105) y una zona de avituallamiento 500 metros más adelante.
Después de una subida y bajada de 15 kilómetros viene el siguiente puerto bonificado, el Col de Serra-Seca. Con 7,7 km y una pendiente media del 7,1%, este puerto de 1ª categoría empezará a castigar las piernas de los ciclistas. Los primeros de la general no tendrán que preocuparse todavía, pero los equipos que vengan preparados para la montaña empezarán a sentir la presión. Es de esperar que el pelotón se reduzca y algún líder de equipo empiece a preguntarse dónde se han metido los demás.
Al quedar todavía 97 kilómetros de competición en la cima del col, no parece el sitio ideal para un gran ataque; los listos esperarán pacientemente a la última subida del día en Arcalís. Un cortísimo descenso y el pelotón afrontará el puerto de tercera Port del Comte, una subida corta y cómoda, con sólo 3,1 km y un 5,3%. Al coronar restarán 87,5 kilómetros para meta.
Desde el port del Comte la carrera se dirige a Organyà en un descenso de 20 km, para luego girar hacia el noreste, en dirección Andorra, donde se encuentra el final en alto de la jornada. A partir de aquí, todo cuesta arriba, ganando pendiente y altura de forma gradual. Al pasar por la Seu d'Urgell, el terreno está elevado 720 m. Tras 20 kilómetros, en Andorra la Vella, ya sube a 977 metros, y desde allí a meta sólo quedan 30 km, pero todos hacia arriba.
La última subida del día, Andorra Arcalís, empieza a 10,6 km de la meta, aunque a eso hay que sumarle los 7 kilómetros de subida tendida desde Ordino. En 2001 la Vuelta puso el inicio de la cronoescalada en Ordino, que presenta una pendiente del 3% hasta llegar al comienzo de Arcalís propiamente dicho.
La subida a Andorra Arcalís está calificada como hors catégorie por los organizadores: cuenta con una pendiente media del 7,1% y los tramos más duros están en su primer kilómetro, donde se alcanza un 8,7%. En los 4 primeros kilómetros, la pendiente se mantiene en torno al 7%, para luego bajar un poco al 6,7% y culminar con un final más cómodo al 4% en los metros finales. Debería llegar un grupo pequeño de corredores donde la punta de velocidad decida el ganador. La meta está situada a 2200m de altura sobre el nivel del mar, siendo éste uno de los finales más elevados del Tour de Francia.
Corredores a seguir
Con 10 kilómetros al 7,1 % de media, el puerto de Arcalís no es una de las subidas más duras, lo que supone que los escaladores difícilmente van a conseguir poner tierra de por medio. Considerando que la etapa está todavía cercana al inicio del Tour, los grandes equipos como Astana y Saxo Bank esperan llegar al final con muchos de sus integrantes, pudiendo entonces marcar un buen ritmo en los tramos de menor pendiente.
Entre los ciclistas que podrían probarlo en Arcalís está Carlos Sastre, del Cervélo TestTeam, si bien el español suele ir en la última de las tres semanas mejor que en la primera. Como no hay muchas más oportunidades para que los escaladores tomen ventaja, Sastre quizás cambie de estrategia y pase al ataque en esta etapa. La oportunidad de ganar una etapa ante los aficionados españoles podría motivarle y hacerle abandonar su habitual cautela.
Como Sastre, Andy Schleck también corre mejor en terreno montañoso que contra el reloj, y tendrá el apoyo de Chris Sørensen, de su hermano Fränk Schleck y de un potente equipo a su disposición. El Saxo Bank, conocido por sus hábiles tácticas, no va a dejar pasar esta oportunidad pirenaica. Presten atención por tanto a los Schleck y al Saxo Bank en Arcalís.
No debemos quitar ojo al ganador de la edición 2007, Alberto Contador, que probablemente disfrutará de una buena renta de segundos obtenidos en la contrarreloj por equipos y no estará tan presionado para atacar. Contador disfrutó de una Dauphiné Libéré bastante tranquila, demostrando estar bastante en forma. Alberto puede contar con el gran apoyo de Levi Leipheimer, que corrió un gran Giro de Italia pero flaqueó al final y no pudo estar muy arriba en la general. Por si quedaran dudas sobre el liderazgo del equipo, Contador querrá despejarlas en la subida a Arcalís, porque sin ser un patán en las contrarreloj (es el actual campeón de España), es en la alta montaña donde Alberto da lo mejor de sí. 
A diferencia de Contador, Cadel Evans, del Silence-Lotto, corrió al ataque en la última Dauphiné, en un esfuerzo titánico para arrebatarle el liderato a Alejandro Valverde, del Caisse d'Epargne. Evans debería llevar ventaja de las dos contrarrelojs, porque la primera en Mónaco le viene bien a sus características y además cuenta con un buen equipo para la segunda en Montpellier. La agresividad mostrada en Dauphiné haría la carrera más entretenida, pero parece que tomará un camino más conservador en estas primera etaps del Tour. Al mismo tiempo, debería tener en cuenta que nos tendrá muchas más oportunidades de ganar el Tour de Francia, y tendrá que intentarlo ahora o nunca.
Como Evans, Robert Gesink, del Rabobank, también fue al ataque en cuanto la carretera picaba hacia arriba en Dauphiné Liberé. Gesink habrá perdido bastante tiempo en la contrarreloj inicial en Mónaco, y un poco menos en la de Montpellier, al estar respaldado por un fuerte Rabobank. El joven holandés ha mejorado sus habilidades contra el crono, pero las capacidades escaladoras siguen intactas y su oportunidad de estar arriba en la general depende de las etapas de alta montaña. Como Gesink corre este año su primer Tour de Francia, es una incógnita si atacará en la primera etapa de montaña real de esta edición. Siempre existe la posibilidad de que decida atacar a tumba abierta (como en Dauphiné), así que habrá que seguirlo de cerca.
Franco Pellizotti llega a este Tour con su reciente tercer puesto en el Giro de Italia bajo el brazo. En recientes comentario, el corredor de Liquigas-Doimo ha dicho que persigue una buena clasificación general en París. Al llevar en forma desde principios de Mayo, Pellizotti podría pasar ciertas dificultades en la tercera semana de Tour, hecho recalcado por el pobre rendimiento de los corredores de Giro que han ido al Tour en los últimos años. El italiano no es un buen contrarrelojista, sus opciones de estar arriba en la general pasan por hacerlo muy bien en la montaña, ¿será Arcalís buen sitio para empezar su asalto al Tour?
La séptima etapa será una prueba para el cuarto del año pasado, Christian Vandevelde, y podremos ver si se ha recuperado de las heridas producidas en el Giro de Italia. En las etapas finales de la Vuelta a Suiza, Vandevelde dejó muestras de estar en forma, pero recuperarse entre Giro y Tour no es tarea fácil. Veremos cómo de bien se ha conseguido recuperar y qué es capaz de hacer en esta primera llegada en alto del Tour de Francia.
Translated by Juan Bonilla (Spain)