Stage 1 ITT results: Bradley Wiggins wins as expected just ahead of BMC riders Cadel Evans and surprise, Brent Bookwalter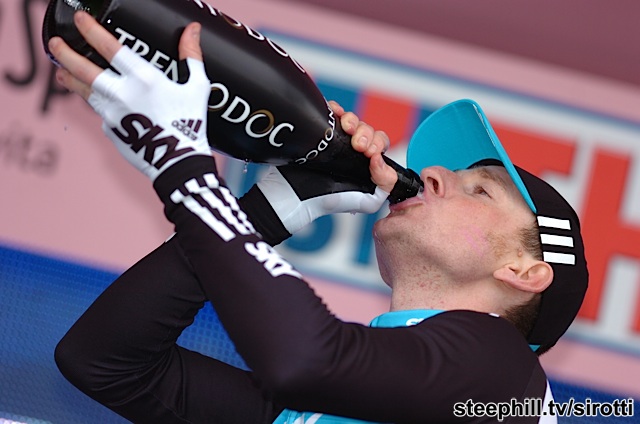 One drink for the win...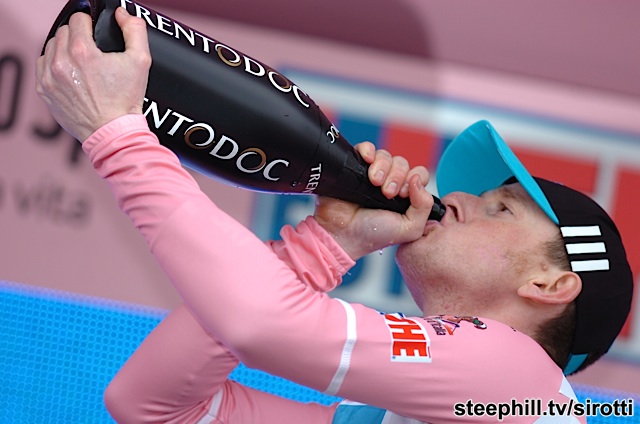 One drink for the first Pink Jersey

9 Big Photos from Stage 1 ITT — sirotti


Stage 1 ITT results:
1  Bradley Wiggins (Sky)          10:18  (8.4 km @ 48.9 km/h)
2  Brent Bookwalter (BMC)         10:20  + 0:02
3  Cadel Evans (BMC)              10:20  + 0:02
4  Alexandre Vinokourov (Astana)  10:23  + 0:05
5  Greg Henderson (Team Sky)      10:23  + 0:05
6  Richie Porte (Saxo Bank)       10:23  + 0:05
7  David Millar (Garmin)          10:24  + 0:06
8  Gustav Larsson (Saxo Bank)     10:25  + 0:07
9  Jos Van Emden (Rabobank)       10:27  + 0:09
10 Marco Pinotti (HTC-Columbia)   10:27  + 0:09 
Full Results — gazzetta.it

2010 Giro d'Italia, Stage 1 report — velonews

Wiggins wins Giro opener — cyclingnews

Wiggins gives Sky lift-off; Landmark win on Team Sky's Grand Tour debut — teamsky

Wiggins prima maglia rosa Grande folla ad Amsterdam — gazzetta.it

Bradley Wiggins action shot from today — grahamwatson

Brent Bookwalter post-stage interview (01:01 english) — bmc

Bookwalter beaming after runner-up ride — velonews

Wiggins verovert roze trui in Amsterdam — sporza.be

Brook Bookwalter's surprise finish (01:31 restricted to U.S.) — universalsports

Bookwalter and Evans shine for BMC — cyclingnews

Millar disappointed to miss Giro top three — cyclingnews

Wiggins in pink at the Giro: It's an amazing feeling — cyclingweekly.co.uk

Tickled pink: Wiggo' meets the media — velonews

Highlights including the winning ride (10:56) — rai sport

9 Big Photos from Stage 1 ITT — sirotti

Graham Watson Stage 1 photos — grahamwatson

"T Giro": The Post-Game Show (24:10 italian) — raisport.rai.it

The end of Wiggin's ride (2:11 italian) — video.gazzetta.it

Bradley Wiggin's and Cadel Evans post-stage reactions (03:36 english) — video.gazzetta.it

Stage 1 Highlights (05:04) — sbs

---
This stage preview is available in the following languages:

(We are looking for translations in ALL other languages. Please submit your translation with the stage no. and language in the subject title.)
May 3 update: The Giro d'Italia has started outside of the Italy only seven times in its 101 year history: Monte Carlo (Principality of Monaco, 1966), Verviers (Belgium, 1973), Vatican City (1974), Athens (1996), Nice (France, 1998), Groningen (Holland, 2002), and Seraing (Belgium, 2006). This year, the Giro starts from the Netherlands, which have been very active in seeking Grand Tour starts recently with the Vuelta a España start in Assen last September and the upcoming Tour de France starting from Rotterdam.

Stage 1 is a 8.4 km time-trial in downtown Amsterdam (
) starting from the Museumplein and finishing at Stadionplein. Needless to say, it will be a very flat route through the streets of one of Europe's most popular tourist destinations.
Riders to watch for include rising time-trial stars Paul Voss of Milram and Richie Porte of Saxo Bank, winners of time trials earlier this year. HTC-Columbia will bring last week's Tour de Romandie prologue winner Marco Pinotti and the 2009 Tour de Romandie prologue winner, Frantisek Rabon. Of course, Sky's Bradley Wiggins is overdue for a TT win this year and should be the prohibitive favorite. Pinotti said, "on paper, stage one is a typical city-centre course. This is a bit short for me but perfect for Wiggins, but that was before he won the shorter 4.7 km prologue at Romandie last week. Team Garmin-Transitions hasn't announced their final nine riders as of May 3rd, but there will likely to be two potential (including David Millar winner of the 7.7k TT at Critérium International) Stage 1 winners in their line-up. And lastly, Alexandre Vinokourov had a convincing win at the Giro del Trentino prologue several weeks ago which he parlayed into an overall win. The Liège-Bastogne-Liège winner clearly has great form right now.
Someone is going to power their way into Pink on the first day. Wiggins, Vinokourov, Millar and Pinotti are the men to watch. — Steve

ITT Start Order and Times

Pre-Race Interviews with D. Millar, M .Pinotti, V. Nibali, G. Simoni, C. Sastre — video.gazzetta.it

"Si Gira" (Stage 1 Pre-Game Show) (29:41 italian) — raisport.rai.it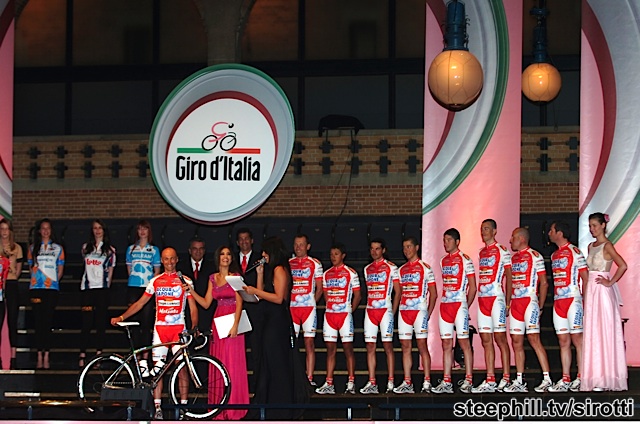 22 teams gather indoors for Giro d'Italia presentation — cyclingnews