Stage 2 results: Garmin's Tyler Farrar wins a crash marred stage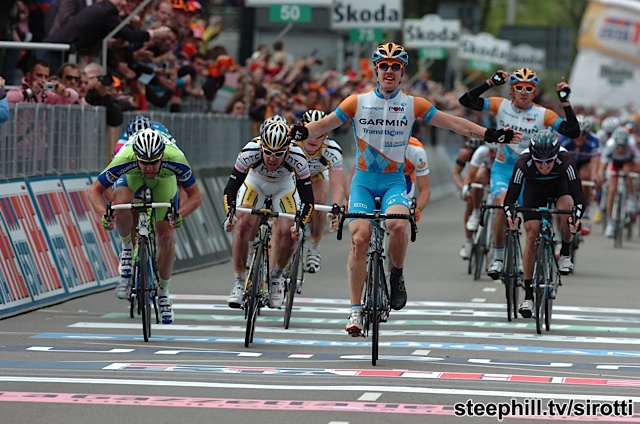 20 Big Photos from Stage 2 — sirotti/rcs


Stage 2 results
1  Tyler Farrar (Garmin)             4:56:46 (42.457 km/h)   - 0:20  
2  Mathew Goss (Columbia)                                    - 0:12
3  Fabio Sabatini (Liquigas)                                 - 0:08   
4  Andre Greipel (Columbia)
5  Alessandro Petacchi (Lampre)
6  Christopher Sutton (Sky)
7  Robbie McEwen (Katusha)	
8  Graeme Brown (Rabobank)	
9  Julean Dean (Garmin)	
10 Sacha Modolo (Colnago)

General classification after Stage 2
1  Cadel Evans (BMC)                5:07:09
2  Tyler Farrar (Garmin)             + 0:01
3  Alexandre Vinokourov (Astana)     + 0:03
Full Results | General Classification — gazzetta.it

Tyler Farrar wint eerste massasprint in Giro — sporza.be

Tyler Farrar wins Giro's stage 2; Evans seizes lead — velonews

Farrar wins sprint into Utrecht — cyclingnews

Team Sky's hard work derailed by mass crashes — teamsky

Evans In Pink, Kohler Out — bmcracingteam

Cadel Evans post-stage press conference (07:10 english/italian) — bmc

Evans back in pink eight years later: "Today was one of the most ridiculously dangerous stages I've seen in my career" — cyclingnews

Wiggins' stint in pink ends after crashes — cyclingnews

Farrar: "Ora cercherò il bis" Evans: "Ho una squadra forte" — gazzetta.it

Last Km (06:02 flemish) | Highlights/Verslag (00:55) —sporza.be

Last Km (05:33 italian) — raisport.rai.it

PROCESSO 2ª TAPPA: Post-Game Show (43:25 italian) — raisport

Graham Watson stage 2 photos — grahamwatson

Stage 2 Crash Highlight Reel (04:05 restricted to U.S.) — universalsports

RAI Sport Stage 2 Crash Reel (07:59 italian) — rai sport

20 Big Photos from Stage 2 — sirotti/rcs

Last 5 km (10:55 italian) — rai sport

CICLISMO Highlights del Giro 2ª Tappa: (02:03 italian) — video.gazzetta.it

Stage 2 Highlights (05:11) — sbs

May 7 update:
Interactive map, written preview and official preview video
"Si Giro:" 2ª TAPPA (Pre-Game Show) (32:27) — raisport

---
This stage preview is available in the following languages:

(We are looking for translations in ALL other languages. Please submit your translation with the stage no. and language in the subject title.)
Análise do percurso

A primeira etapa é em estrada plana, onde os dois primeiros Gran Premio della Montagnas (GPM) do Giro d ́Italia deste ano, que são subidas de categoria 3, têm apenas 49m e 70m de altitude. Como todos os estágios que se iniciam na Holanda, esta etapa 2 se inicia em Amsterdã. Nós então iremos em direção sudeste até Waegningen, antes de tomarmos a direção noroeste até a chegada em Utrecht ( esquerda), o centro religioso da Holanda desde o século VIII. Utrecht é também conhecida por seus muitos canais, galerias de arte, centros de compras e por abrigar a maior universidade da Holanda.

Os holandeses adorariam ver um de seus conterrâneos vencendo um dos estágios planos em sua terra natal, mas a maior esperança deles são provavelmente o espanhol Oscar Freire ou o australiano Graeme Brown, que correm pelo time holandês Rabobank. Ele irá disputar a chegada em sprint com André Greipel da Columbia, com o australiano fluente em holandês/flamengo, Robbie McEwen da equipe Katusha, também com Greg Henderson da Sky, com o americano Tyler Farrar da Garmin-Transitions e com o melhor sprinter da Itália, Alessando Petacchi da Lampre, que possui 26 vitórias em estágios de sprint desde 2003.

O grande desafio poderá ser a ponte exposta a apenas 3km da chegada, especialmente se estiver ventando consideravelmente. Uma chegada de Greg Henderson entre os três primeiros, se somada a conquista de bônus (20, 12 ou 8 segundos), lhe daria a malha rosa como recompensa pelo seu excelente 5o. lugar no ITT do primeiro estágio.