---
This stage preview is available in the following languages:

(We are looking for translations in ALL other languages. Please submit your translation with the stage no. and language in the subject title.)
May 22 update: Stage 15 is one of the stages many Giro fans have been looking forward to this year. In addition to having two cat 2 climbs and a cat 1 leading up to the HC mountaintop finish on Monte Zoncolan (profile), there is also the lengthy bit of flatland totaling 112 km before the climbing even starts. In total, the stage is 212 km starting from Mestre, just outside of Venice.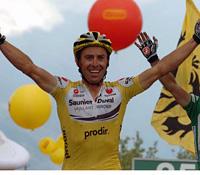 This is the third time the Giro has finished on Monte Zoncolan with Gilberto Simoni having won the previous two editions, once in 2003 and again in 2007. Zoncolan has the sort of viciously steep profile Simoni relishes; it averages 12% over 10 km with a max grade of 22%. He's back again for his last Giro, but judging by his current form he isn't likely to three-peat. — Steve

The Climb Details and Contour Map — gazzetta.it

Zoncolan back in 2010 Giro — cyclingnews

Ecco Fatto: Simoni reigns on Zoncolan (2003) — cyclingnews

Simoni: King of Zoncolan (2007) — cyclingnews