Prologue results: Tony Martin waits three hours to see his best time eclipsed by Fabian Cancellara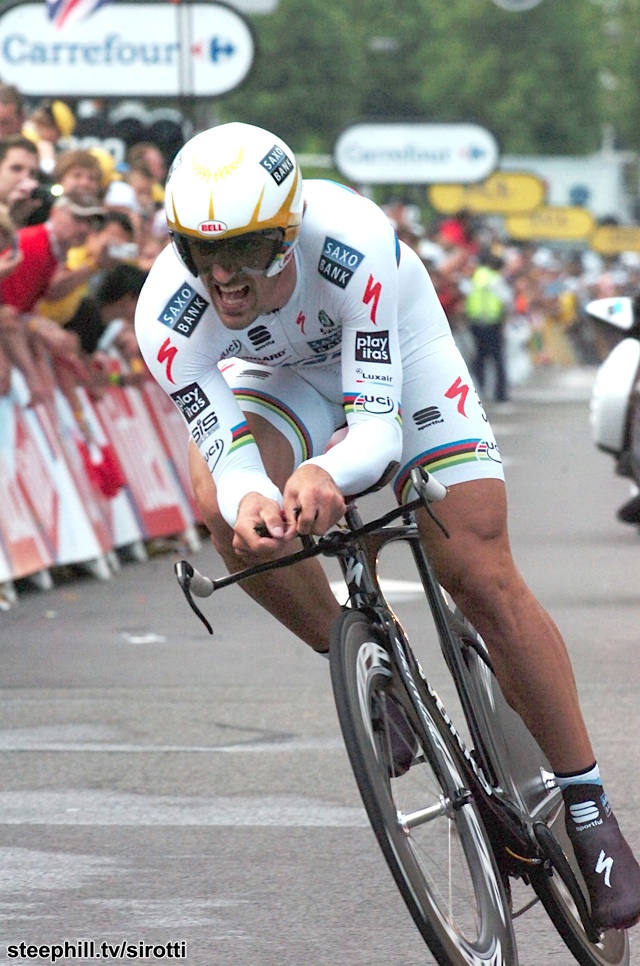 9 Big Photos from the Prologue — sirotti


Prologue results
1  Fabian Cancellara (SUI) Team Saxo Bank 8.9 km in 10:00
2  Tony Martin (GER) Team HTC - Columbia           + 0:10
3  David Millar (GBR) Garmin - Transitions         + 0:20
4  Lance Armstrong (USA) Team Radioshack           + 0:22
5  Geraint Thomas (GBR) Sky                        + 0:23
6  Alberto Contador Velasco (ESP) Astana           + 0:27
7  Tyler Farrar (USA) Garmin - Transitions         + 0:28
8  Levi Leipheimer (USA) Team Radioshack           + 0:28
9  Edvald Boasson Hagen (NOR) Sky                  + 0:32
10 Linus Gerdemann (GER) Team Milram               + 0:35   
Full Results — letour.fr

Cancellara wins prologue time trial — cyclingnews

De eerste gele trui is voor Cancellara — sporza.be

David Millar & Geraint Thomas shine in Tour prologue — news.bbc.co.uk

Fabian Cancellara wins 2010 Tour de France prologue in Rotterdam, takes yellow jersey — velonews

Prologue Highlights: Cancellara es el primer líder del Tour de Francia 2010 (01:22 spanish) — rtve.es

Andy Schleck furious over Tour prologue ride — cyclingnews

Cancellara unleashes a perfect 10 minutes of power — cyclingnews

Rogers pleased with prologue — cyclingnews

Armstrong content with Tour prologue result — cyclingnews

No time bonuses mean Cancellara could enjoy long ride in yellow — velonews

Contador not happy after time trial — eurosport

AP Prologue Photos — telegraph.co.uk

Prologue Highlights/Verslag (flemish, restricted to Belgium) —sporza.be

9 Big Photos from the Prologue — sirotti

Rider Finishes: L Armstrong (01:06) | F Cancellara (00:43) | A Contador (01:07) — versus

Winner's Interview (01:22) — versus

Prologue Highlights with Phil Liggett and Paul Sherwen (02:25) — versus

Prologue Recap with Bob Roll (03:07) — versus

Graham Watson photos — grahamwatson

ITV stage 1 podcast with Matt Rendell and Chris Boardman (11:05) — ITV

Tour de France prologue: Chris Horner's Team RadioShack diary — blog.oregonlive

Lance Armstrong post-prologue interview (02:25) — versus

---
This stage preview is available in the following languages:

(We are looking for translations in ALL other languages. Please submit your translation with the stage no. and language in the subject title.)
Так же как прошлогодние Джиро и Вуэльта, Тур де Франс 2010 года стартует в Нидерландах. Третьего июля, в субботу, пролог через центр Роттердама, дистанция 8,9 км, открывает 97-й Тур Де Франс. Трасса гонки с индивидуальным стартом относительная простая, с небольшим числом поворотов и всего двумя буграми, включая мост Эразмуса (Эразмусбург), висячий мост, связывающий северную и южную половины Роттердама. Гонка начинается и заканчивается в южной половине города возле Зюйдерпарка. Это чисто силовая трасса, поэтому, рассуждая логически, Фабиан Канчелара (Saxobank) должен выиграть первую жёлтую майку, так же как и в прошлый раз. В этом году в двух гонках с раздельным стартом представитель HTC-Columbia Тони Мартин побеждал Канчелару, и проиграл ему всего три секунды на быстром техничном прологе Тура Швейцарии в начале июня.


(
2010 Edition)