Stage 8 results: Oscar Gatto (Farnese Vini) prances clear on the final hill followed by Alberto Contador with the sprinters 5s back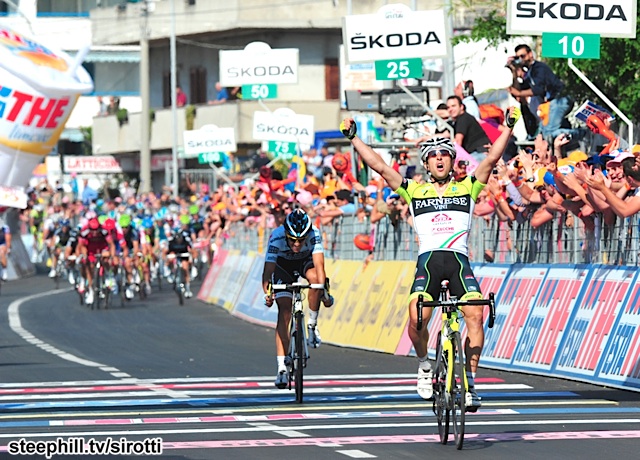 31 Big Photos from Stage 8 — sirotti/rcs


Stage 8 results
1  Oscar Gatto (Farnese Vini)            4:59:45
2  Alberto Contador (Saxo Bank)
3  Alessandro Petacchi (Lampre-ISD)       + 0:05 	
4  Alexander Kristoff (BMC Racing Team)     
5  Roberto Ferrari (Androni Giocattoli)      
6  Davide Appollonio (Sky Procycling)  
7  Francisco Ventoso (Movistar)	

General classification after Stage 8
1  Pieter Weening (Rabobank)             
2  Kanstantin Siutsou (HTC-Highroad)      + 0:02
3  Marco Pinotti (HTC-Highroad) 
Full/Official Results and GC — gazzetta.it

Gatto and Contador surprise the sprinters — cyclingnews

Gatto batte Contador Weeming conserva la rosa — gazzetta.it

Contador pakt seconden in een vlakke rit, Gatto wint — sporza.be

Gatto celebrates holding off Contador on Tropea finish — cyclingnews

Contador: "Come mi sento bene..." Nibali: "Ma sull'Etna io ci sarò" — gazzetta.it

Last 2 Km (07:52 Italian) — rai.tv

Processo alla tappa - 8ª tappa/ Post-Stage Show (1:12:02 Italian) — rai.tv

31 Big Photos from Stage 8 — sirotti/rcs

---
This stage preview is available in the following languages:

(We are looking for translations in ALL other languages. Please submit your translation with the stage no. and language in the subject title. If you don't see your preview posted within 12 hours then please resend your preview as an attachment if you didn't already do so because we've had problems with some inline character sets like German.)



13 de Mayo: La etapa 8 parece una de las pocas oportunidades para los sprinters en la edición de este año del Giro, pero hay un pequeño obstáculo que puede arruinar el día a los sprinters puros. A dos kilómetros del final en Tropea hay un repecho de 700 metros con una media del 7,8% (8,5% cerca del final), después el último kilómetro es llano. 

El campeón olímpico en 2004 Paolo Bettini ganó la etapa inicial del Giro 2005 en Tropea con un ataque que nadie pudo seguir justo en ese repecho. ¿Habrá algún atacante en el pelotón este año que pueda repetir el éxito con el mismo ataque? 

La etapa empieza en Sapri y se dirige hacia el sur a lo largo de la costa azul turquesa del Mar Tirreno, durante los 217 km de etapa. En la meta de Tropea, estaremos cerca de la punta sur de la Italia peninsular. Tropea es un pueblo construido en un acantilado de una forma un tanto precaria. Estas imagenes de diversas fuentes de Tropea revelan lo absolutamente impresionante que es este lugar. No me gustaría tirar mi dinero en una de las casas a la orilla de la playa, pero realmente no me importaría una semana de alquiler -- Nico Morales.