Stage 8 results: Oscar Gatto (Farnese Vini) prances clear on the final hill followed by Alberto Contador with the sprinters 5s back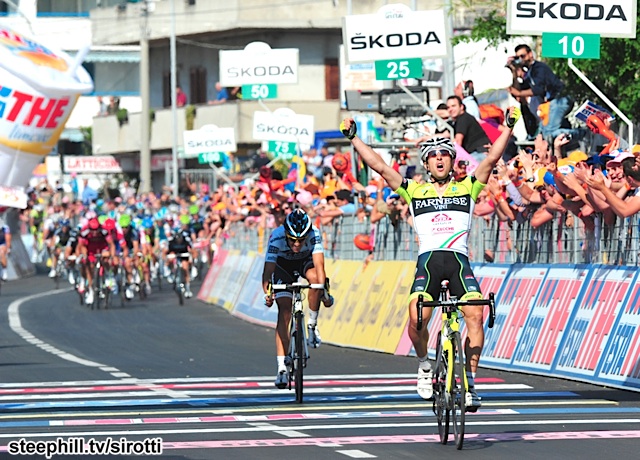 31 Big Photos from Stage 8 — sirotti/rcs


Stage 8 results
1  Oscar Gatto (Farnese Vini)            4:59:45
2  Alberto Contador (Saxo Bank)
3  Alessandro Petacchi (Lampre-ISD)       + 0:05 	
4  Alexander Kristoff (BMC Racing Team)     
5  Roberto Ferrari (Androni Giocattoli)      
6  Davide Appollonio (Sky Procycling)  
7  Francisco Ventoso (Movistar)	

General classification after Stage 8
1  Pieter Weening (Rabobank)             
2  Kanstantin Siutsou (HTC-Highroad)      + 0:02
3  Marco Pinotti (HTC-Highroad) 
Full/Official Results and GC — gazzetta.it

Gatto and Contador surprise the sprinters — cyclingnews

Gatto batte Contador Weeming conserva la rosa — gazzetta.it

Contador pakt seconden in een vlakke rit, Gatto wint — sporza.be

Gatto celebrates holding off Contador on Tropea finish — cyclingnews

Contador: "Come mi sento bene..." Nibali: "Ma sull'Etna io ci sarò" — gazzetta.it

Last 2 Km (07:52 Italian) — rai.tv

Processo alla tappa - 8ª tappa/ Post-Stage Show (1:12:02 Italian) — rai.tv

31 Big Photos from Stage 8 — sirotti/rcs

---
This stage preview is available in the following languages:

(We are looking for translations in ALL other languages. Please submit your translation with the stage no. and language in the subject title. If you don't see your preview posted within 12 hours then please resend your preview as an attachment if you didn't already do so because we've had problems with some inline character sets like German.)


Első pillantásra a 8. szakasz az idei Giro ritka sprinter-befutóinak egyikének tűnik de van egy aprócska, a szó szoros értelmében vett akadály mely romba döntheti a sprinter reményeket. Pont 2 km-rel a Tropea-i finis előtt van egy szakasz melynek átlagos meredeksége 7,8% (a csúcs közelében 8,5%) az utolsó, már azonos szinten folytatódó km előtt. 

Paolo Bettini, a 2004-es olimpiai bajnok nyerte a 2005-ös Giro nyitó szakaszát Tropea-ban egy mások által követhetetlen megmozdulással. Vajon az idei mezőnyben van e olyan aki véghez vinné ugyanezt?    

A start Sapri-ban lesz és dél felé kanyarog a türkizkék Tirrén tengerre néző parti úton. A Tropeai célba érkezéskor az olasz "fő sziget" legdélibb pontjának a közelében leszünk. Tropea egy zátonyra (szirtre) épült vadregényes falu, az alábbi képek bizonysága szerint bizonyítják milyen lélegzet elállító hely valójában:

Nem szeretném a pénzemet a tengerparti strand fölé nyúló házak egyikébe sem elrejteni viszont egy 7 napos bérleményt nem bánnék!