Milan-San Remo 2012 Live Dashboard
Race Info, Preview, Live Video, Results, Photos and Highlights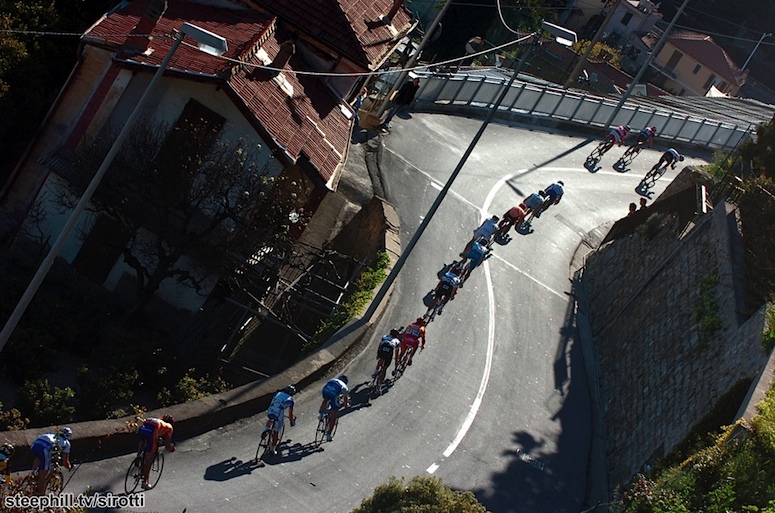 Milan-San Remo, the first cycling monument of the year is this Saturday. Pictured here is the tricky Poggio descent in the final 6 km where the race is often decided.
Reserve this ad space
(subject to approval)
News and Updates for Milan-San Remo 2012
Next: Starting Monday, March 19th
and running all next week is
Volta a Catalunya
(ProTour/Spain): race info, brief preview, startlist and broadcasters now posted. Live video, results, photos and highlights every day during the race.
---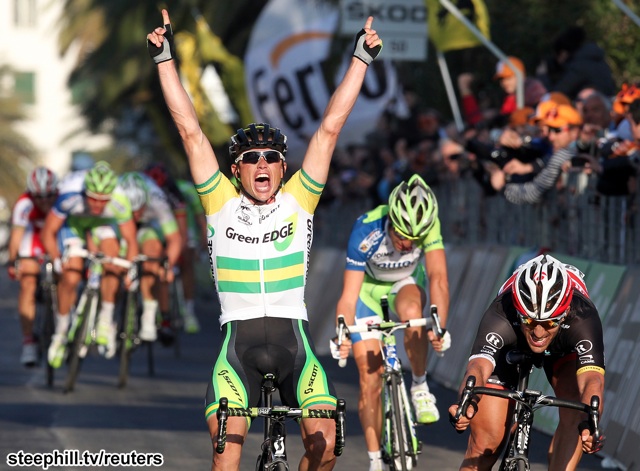 45 Big Photos from Milan-San Remo 2012 (more photos added) — sirotti/rcs/reuters

Full/Official Results from Milan-San Remo 2012 — gazzetta

Gerrans klopt Cancellara en Nibali in Sanremo — sporza.be

Australian national champ outsprints Cancellara, Nibali — cyclingnews

Sanremo, finale da grandi brividi Gerrans batte Cancellara e Nibali — gazzetta.it

Simon Gerrans takes Australia's second straight Milano-Sanremo — velonation

Gerrans: I can't deny Cancellara was the strongest — cyclingnews

Crash ends Gilbert's Milan-San Remo challenge — cyclingnews

Boonen held up by Milan-San Remo crash — cyclingnews

Gerrans defends San Remo win, admits Cancellara was strongest — velonews

Vincenzo Nibali both satisfied and disappointed with third place in Sanremo — velonation

Gerrans wins Milan-San Remo cycle classic — AP

Milan-San Remo analysis: clever boy — cyclesportmag

Quintero banged up, but not in serious danger — velonews

Cavendish: 'Something was very wrong' in Milan-Sanremo — velonation

Nibali succeeds on Poggio, but fails to win Milan-San Remo — cyclingweekly.co.uk

Pozzato takes sixth, weeks after fractured collarbone — velonation

Last Km (02:42 Flemish) — sporza.be

Last Km (03:31 Italian) — rai

45 Big Photos from Milan-San Remo 2012 (more photos added) — sirotti/rcs/reuters

Winner's Interview with Simon Gerrans (02:26 English) — rai

---
2012 Milan-San Remo Race Preview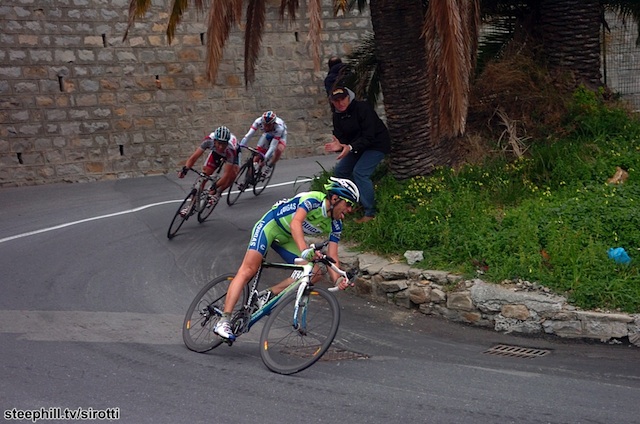 2011: 14 Big Photos from Milan-San Remo
—
sirotti
2010: 9 Big Photos from Milan-San Remo
—
sirotti
2009: 9 Big Photos from Milan San-Remo
—
sirotti
2008: 58 Big Photos from Milan San-Remo
—
sirotti
Classic Highlights from Previous Years:

March 16 update:

Official 2012 startlist now posted (right) — steephill

Gilbert doesn't expect to play a significant role in Milan-San Remo — cyclingnews

Boonen not afraid of Cavendish ahead of Milan-San Remo — cyclingnews

Defending champion Goss "in with a good shot" at Milan-San Remo — cyclingnews

Gilbert: Cancellara is the favorite for Milan-San Remo — velonews

Sanremo's Best: The Top Six — pezcyclingnews

March 15 update:

Analysis: The real favorites for Milan-San Remo and what March says about July — velonews

Liquigas-Cannondale with Vincenzo Nibali and Peter Sagan in Milano-Sanremo — velonation

2012 Milan-San Remo wide open — cyclingnews

Google Earth Tour of Cipressa (0239m) 2nd last climb — cyclingthealps

Poggio di Sanremo (0160m) last climb streetview — cyclingthealps

What makes Milan-San Remo a great race – and who will win? (from 2010) — cyclingweekly.co.uk

The Poggio — inrng

Milan-San Remo 2012: Who will win? — cyclingweekly.co.uk

Milano-Sanremo '12: La Previewissima! — pezcyclingnews

Milano-Sanremo Course Preview — podiumcafe

Milan-San Remo Favorites and Surprises — bicycling/joelindsey

Oscar Freire Interview: Cavendish is biggest barrier to fourth Sanremo win — velonation

Dare to bet against Cav? — sbs.au/anthonytan

March 14 update:

Provisional 2012 startlist now posted — steephill

Nibali sets his sights on Milan-San Remo — cyclingnews

Gilbert prepares in Imola ahead of Milan-San Remo — cyclingnews

Matthews out of Milan-San Remo — cyclingnews

Hushovd looks to take Milan-San Remo sprint for BMC — cyclingnews

Q&A Heinrich Haussler: 'The legs are back' — velonews

March 13 update:

Matt Goss withdrawn from Tirreno-Adriatico as precaution — theaustralian.au

Cancellara plans to upset San Remo sprint — cyclingweekly.co.uk

Boonen can "win Milan-San Remo at 90-95 per cent" — cyclingnews

Sagan shows form ahead of Milan-San Remo — cyclingweekly.co.uk

Debate rages over Gilbert's readiness for Milan-San Remo — cyclingnews

---
In Diretta: Live Video Streaming and TV Coverage
Start time:
Saturday 9:45 CET ();
Current Weather in Milan
Earliest live video:
14:40 CET ();
Live video/text options
Approximate finish
17:00 CET ();
Current Weather in San Remo
March 17 update: Options to view the 2012 Milan-San Remo in your part of the world. Check back at race time for updates to the online links and tv schedules. Feel free to send in additional sources for live video or tv coverage as they become known. Big Photos from Sirotti right after the race. More to come... — Steve

---
2012 Milan-San Remo Route Map, Profile, Timetable
profile
|
profile last 30 km from Cipressa
|
profile last 6 km
|
timetable
Google Earth Tour of Cipressa (0239m) 2nd last climb
—
cyclingthealps
Poggio di Sanremo (0160m) last climb streetview
—
cyclingthealps
---