---
This stage preview is available in the following languages:

(We are looking for translations in ALL other languages. Please submit your translation with the stage no. and language in the subject title. If you don't see your preview posted within 12 hours then please resend your preview as an attachment if you didn't already do so because we've had problems with some inline character sets like German.)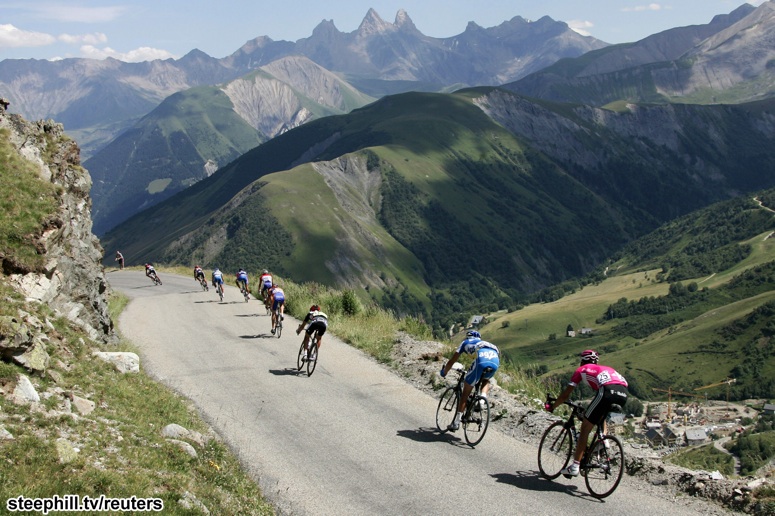 July 10 update: Stage 11 is a classic Alps mountain stage: a series of massive climbs ending in a mountaintop finish; the first and only real Alpine stage of this year's race.
Starting from Albertville, host of the 1992 Winter Olympics, the race will head south and almost immediately tackle two of the most famous climbs frequently used by the Tour de France, Col de la Madeleine and Col de la Croix de Fer. Both are over 20 km long and average over 6% giving them the hors categorie rating. After the cat 2 Col du Mollard with 35 km to go, the stage will end with a cat 1 summit finish at La-Toussuire. It's up a long way, down a long descent... up all day long.
La-Toussuire has an infamous past with the Tour de France. On stage 16 of the 2006 Tour de France, Floyd Landis lost over 10 minutes to the stage winner, Michael Rasmussen, while wearing the Yellow Jersey. He then climbed back into contention by winning by more than 5 1/2 minutes the next day. It was all for not, of course, as Floyd Landis was spurred on by a blood transfusion after Stage 16 and was later stripped of the title he eventually won that year.
This stage will be won by a pure climber, most likely one further down on GC, like Frank Schleck. Longshot pick: Chris Anker Sørensen who won on La-Toussuire at the 2008 Criterium du Dauphine and his Team Saxo-Bank is desperate for a stage win at this year's Tour.
A bad start to this stage will be disastrous for a GC contender as the series of long climbs and technical descents will expose any weakness. There will be big time gaps at the finish and changes on GC; it is expected to be the most important mountain stage of this year's Tour. 5000m of climbing in just 148 km and the entire stage will be broadcast live. It should be spectacular entertainment in every respect. — Steve