Strade Bianche 2013 Live Dashboard
Race Info, Preview, Live Video, Results, Photos and Highlights
Reserve this ad space
for your own product, bike tour or service (subject to approval)
News and Updates for Strade Bianche 2013
2013 Strade Bianche Post-Race Coverage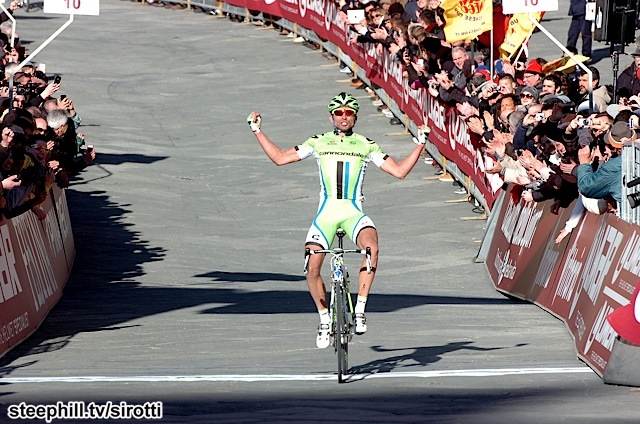 43 Big Photos from Strade Bianche 2013
(more photos added) —
sirotti/rcs
Full Official Results
—
gazzetta.it
Moser thrills tifosi with Strade Bianche win
—
cyclingnews
La Gazzetta dello Sport: StradeBianche
—
gazzetta.it
Moreno Moser wins 2013 Strade Bianche on final climb
—
velonews
Sagan happy to help Moser at Strade Bianche
—
cyclingnews
Moser and Sagan take Cannondale Pro Cycling one two in Strade Bianche
—
velonation
Cancellara's victory chances foiled by rivals' marking and team mishaps
—
velonation
Cancellara: The best team won at Strade Bianche
—
cyclingnews
43 Big Photos from Strade Bianche 2013
(more photos added) —
sirotti/rcs
Winner's Interview
(02:20 Italian) —
gazzetta.it
Italy hails the next Moser generation
—
cyclingnews
Strade Bianche analysis: goodnight Siena
—
cyclesportmag
Pre-Race Taylor Phinney, un americano nel Chianti (01:18 Italian) — gazzetta.it
Pre-Race Cadel Evans, ultimo fango a Montalcino (01:07 Italian) — gazzetta.it
Pre-Race Peter Sagan: 'Una classica del sud' (01:12 Italian) — gazzetta.it

---
2013 Strade Bianche Race Preview
March 1 update:
The Strade Bianche: a modern Classic
—
theroar.au
Official Startlist w/ bib numbers
—
steephill.tv
Strade Bianche Preview: A Dusty Loop Towards Siena
—
podiumcafe
Broadcasters and Live Video
—
steephill
Strade Bianche: Favorites & Jokers
—
c-cycling.blogspot.cz
February 27 update:
Evans, Van Avermaet headline BMC for Strade Bianche
—
cyclingnews
Italian races relying on passion to survive, says Acquarone
—
cyclingnews
Cancellara looks to defend Strade Bianche crown
—
cyclingnews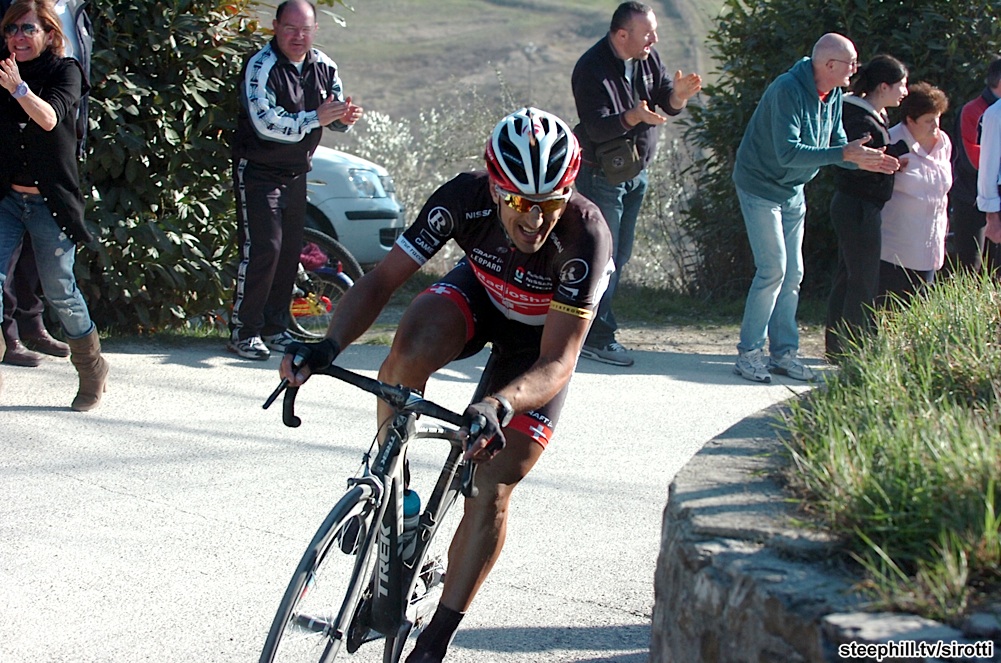 CANCELLARA HOPES FOR A THIRD VICTORY IN THE STRADE BIANCHE
Challenging the Swiss athlete for a historic third victory are champions like Sagan, Valverde, Pozzato and Evans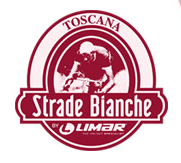 February 25 update:
PRESS RELEASE - Team Radioshack Leopard's Swiss rider Fabian Cancellara will try to obtain an historic third victory in the Strade Bianche by Limar, to add to his previous victories in 2008 and 2012.
If Cancellara does win, he will become the first rider to have one of the unpaved sections of the "corsa degli sterri" named after him, as from this year RCS Sport/La Gazzetta dello Sport have decided to name these sections of the road after riders who complete a hat trick of race wins.
Challenging the Swiss athlete, who starts the race wearing nr.1, will be many champions of international cycling, both one day race specialists and not. Confirmed for the 7th edition of the Strade Bianche by Limar are: American Taylor Phinney and Australian Cadel Evans of BMC Racing Team, Team Movistar Spanish rider Alejandro Valverde, Slovakian Peter Sagan and Italian Moreno Moser both of Cannondale Pro Cycling team, the Italian national champion Franco Pellizotti of Androni Giocattoli, Astana Pro Team Italian rider Enrico Gasparotto and the Team Lampre Merida Italian duo Filippo Pozzato and Damiano Cunego.
Following the same route as last year, with key points on the climbs of Montalcino, Buonconvento, San Giovanni and San Giorgio for a total of 190 km the race makes no allowances for riders not on top form.
Phinney better than ever ahead of classics opener — velonews

21 Big Photos from 2012 — sirotti/rcs

Race History and Past Winners — wikipedia

---
In Diretta: Live Video Streaming and TV Coverage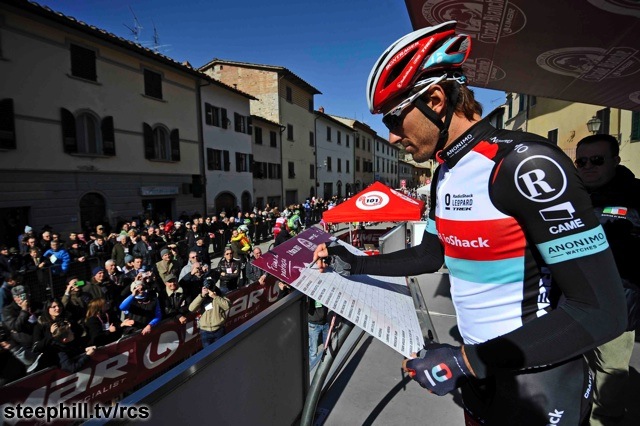 Start time:
Saturday 11:00 CET ();
Current Weather in Gaiole in Chianti
Earliest live video:
13:00 CET ();
Approximate finish:
15:45 CET ();
Current Weather in Siena
March 2 update: Listed below are most of the broadcasters for this year's race. As usual, unrestricted live video links are shown in bold. Looks like there will be no live English commentary; the English based countries are broadcasting it delayed. If you see a link or information I've missed then please send it in. — Steve

---
2013 Strade Bianche Route Map, Profile, Timetable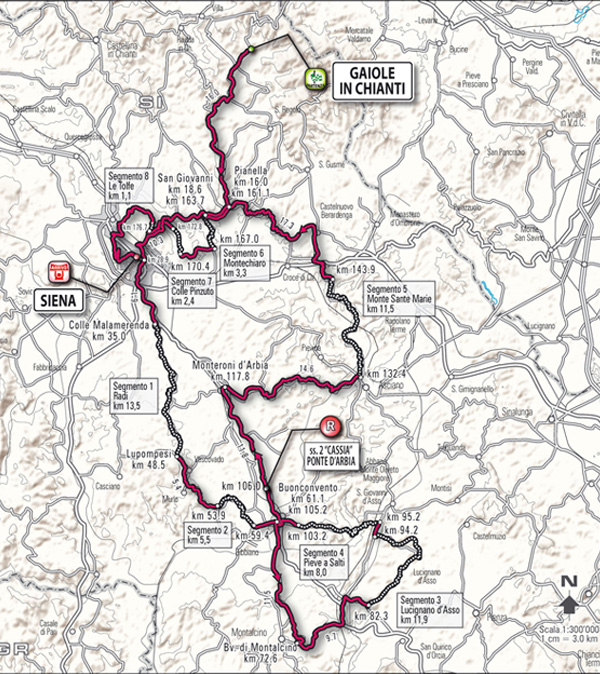 profile
|
finish profile
|
timetable
---